Video games don't all have to dark and gruesome with guns and blood all over the place. Sometimes we need something simple, colorful, and cute to occupy our time with. Fortunately, Om Nom: Run from the Cut The Rope franchise answers that call.
It is a mobile game with simple gameplay but has all the fun and exciting mechanics incorporated into it that makes it truly unique. In this article, you'll get to learn what the game is all about, how to play it, how to download, how to earn more coins, and how to play better.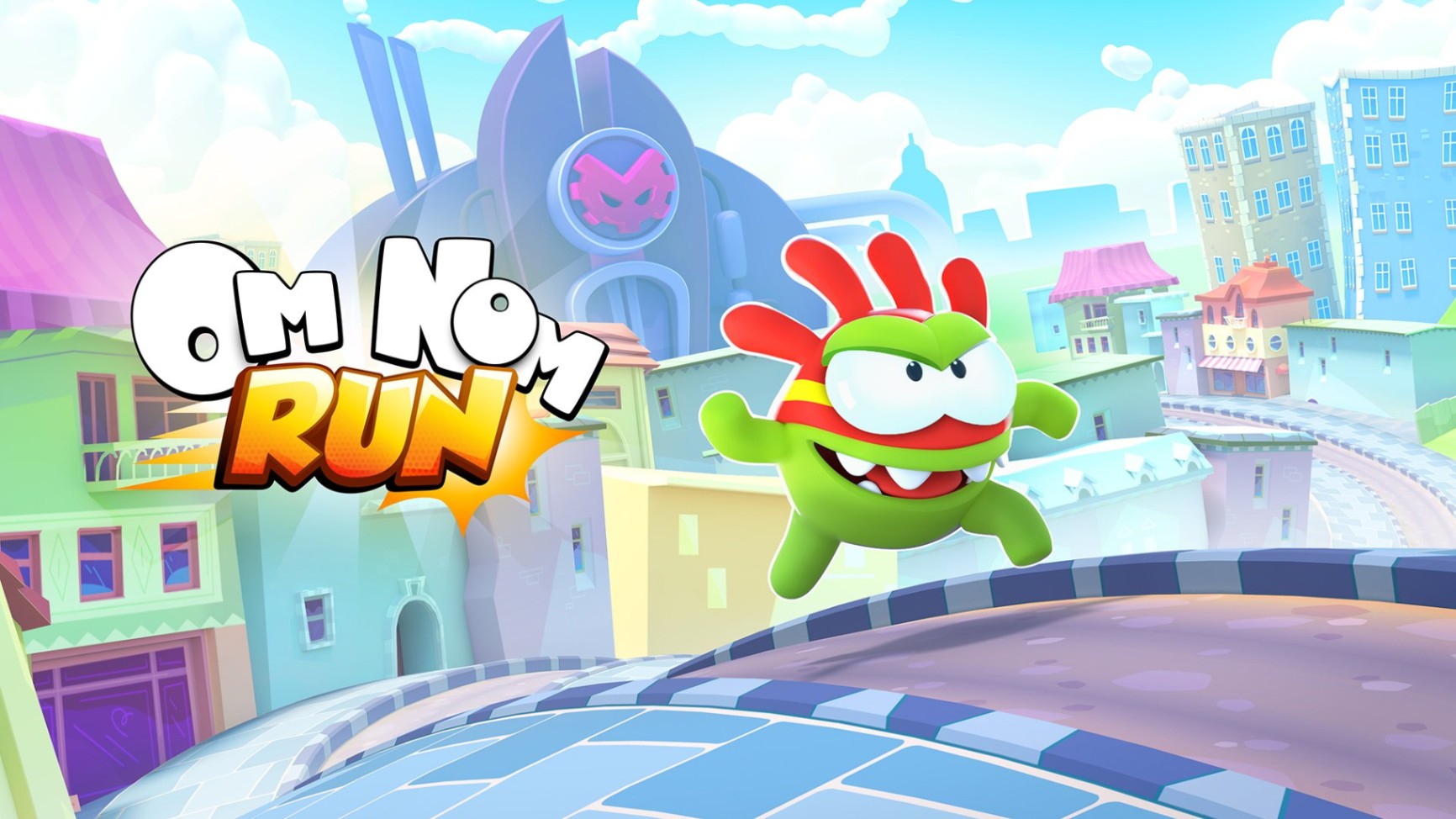 What Is Om Nom: Run?
Om Nom: Run is a mobile platform race game where you get to control a cute little greenish monster as you race through the streets of Nomville while also trying to avoid obstacles. You can collect coins, and use them to unlock characters. Each chapter of the game is comprised of about 10 levels. Each level will have a specific mission that you need to complete to earn more rewards.
You get to control Om Nom and Om Nelle as you race through different terrains such as the busy downtown or the radioactive sewers down below. Complete missions and earn rewards as you go through different game modes.
You can earn your way to the top of the leaderboard by finishing with the highest score in missions and regular competitions. Be the top player in your region and get even more rewards.
Gameplay and Features
Om Nom: Run features game modes like the Story Mode where you get to complete each chapter and collect all rewards from each level. Players will also get to tackle boss monsters at the end of each chapter. Each level consists of missions such as running specific distances, collecting letters, as well as performing different stunts and tricks.
You can run through different terrains such as platforms and on-top of buses while also avoiding cars and boxes along the way. Collect coins and use boosters and power-ups such as rockets and magnets to automatically collect coins that you encounter. Collect them all and you will get extra points.
In the end, you will receive bonus rewards from completing all the missions. Rewards include coins and more to unlock other characters in the game. You can even double or triple the reward you get by watching videos at the end of each level.
How to Play
Om Nom: Run follows the characters in the Cut the Rope universe like Om Nom, Om Nelle, and many others as they race through the different areas of Nomville in an attempt to collect coins.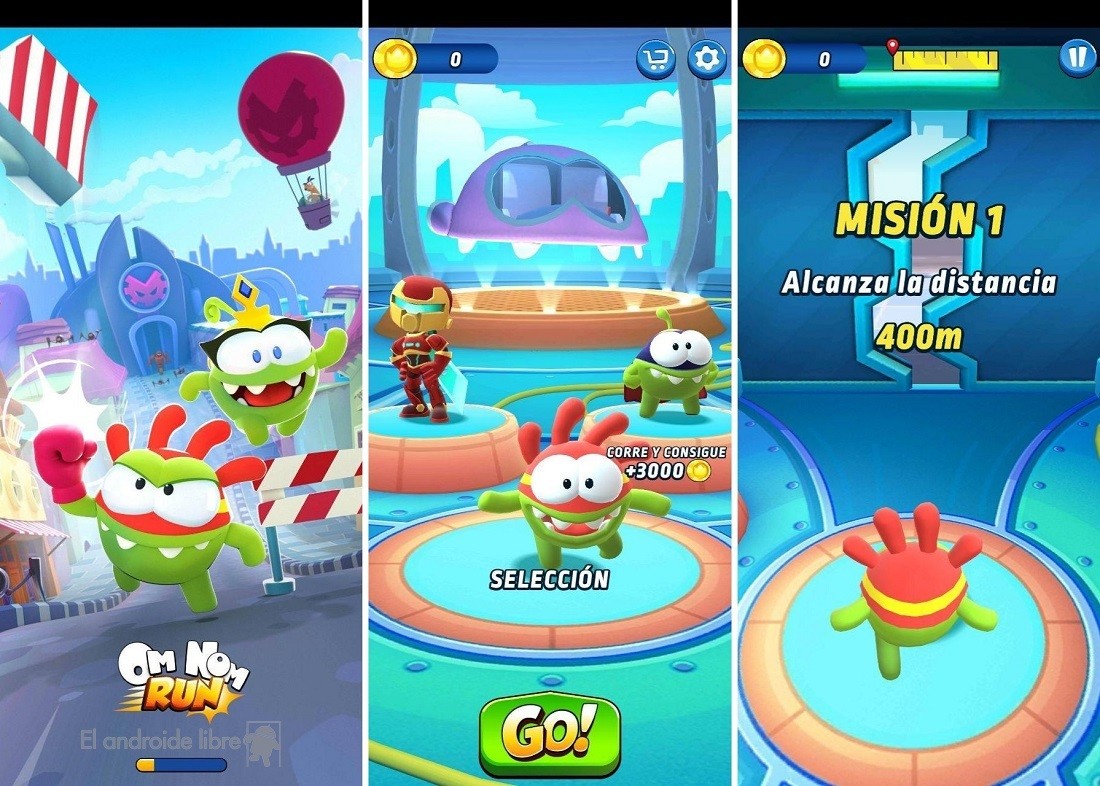 The mobile game offers a unique running adventure with its original take on features and twists in the genre.
To play the game, simply swipe left or right to transfer from one lane to another. There are three lanes that you can go to but there are times that specific lanes will have obstacles and platforms that you need to go through.
Sometimes, you may even have to slide underneath them just to get past the obstacle.
How to Download
Om Nom: Run is available for download on mobile devices. Android users can download the game at the Google Play Store by searching for the title of the game. Once found, tap on Install to download the game and wait until it is fully installed.
To launch the game, users can tap Open or create a shortcut of the app to their home screen and tap the app to open the game. Players will be taken to the main page of the game where you can choose to dive straight into the game or go through the tutorial first.
Grab Coins and Power-Ups
As with many other runner mobile games, Om Nom: Run requires you to gather rewards. Players will have to collect coins by running through them. They will also encounter different types of power-ups along the way.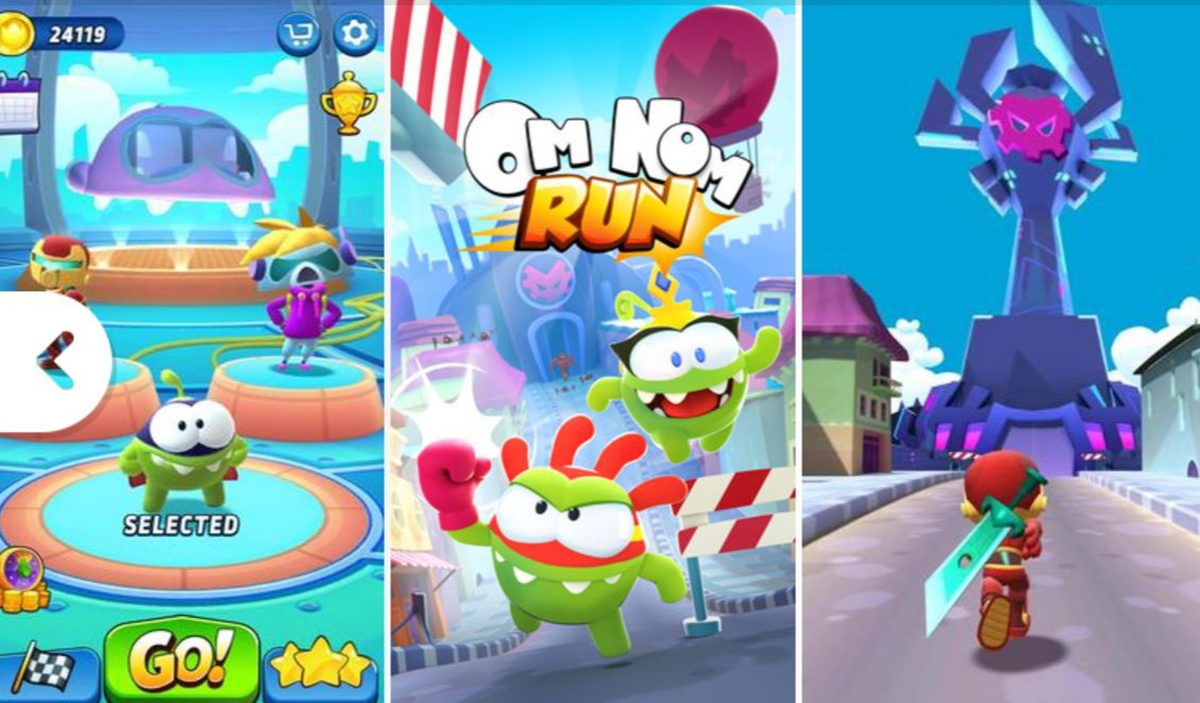 Each power-up will help you get some unique abilities in the game that will enhance your experience. These power-ups are indicated by a bright light and will grant you some temporary power in the game.
Some of these power-ups include the magnet where you can collect coins no matter which lane you're running in which helps increase your coin at the end of the level. Another is the Coin Multiplier where you get to multiply the total coins that you picked up along the way.
And you also have the Spring Shoes that let you jump to platforms that you can't normally reach as well as the rocket where you soar high up into the sky and never have to worry about any obstacle for a certain period.
Perform Stunts
You will encounter different ramps across the game. One specific ramp will let you perform different stunts and tricks once you go off the ramp. Players can identify this ramp with its green color and have a bicycle icon.
Each character can do their stunts in which the game will reward you with items like a jetpack. Once you perform a good stunt, the jetpack will immediately activate which will send you high up in the air where you can collect coins and items. This should also help you gather more coins by the end of each level.
Performing stuns will also land you several championship points. Every day, you will encounter different missions that require you to reach a certain number of championship points or do several stunts in the game. This will help you unlock more coins in the game and even earn you the top spot in the rankings.
Importance of Coins
Coins are the most essential part of the game. Without them, you won't have any items or unlock any other characters in the game. Collecting coins is rather easy by simply running past through them but there will be times in this game that you will have to exert more effort in collecting coins especially during the later stages.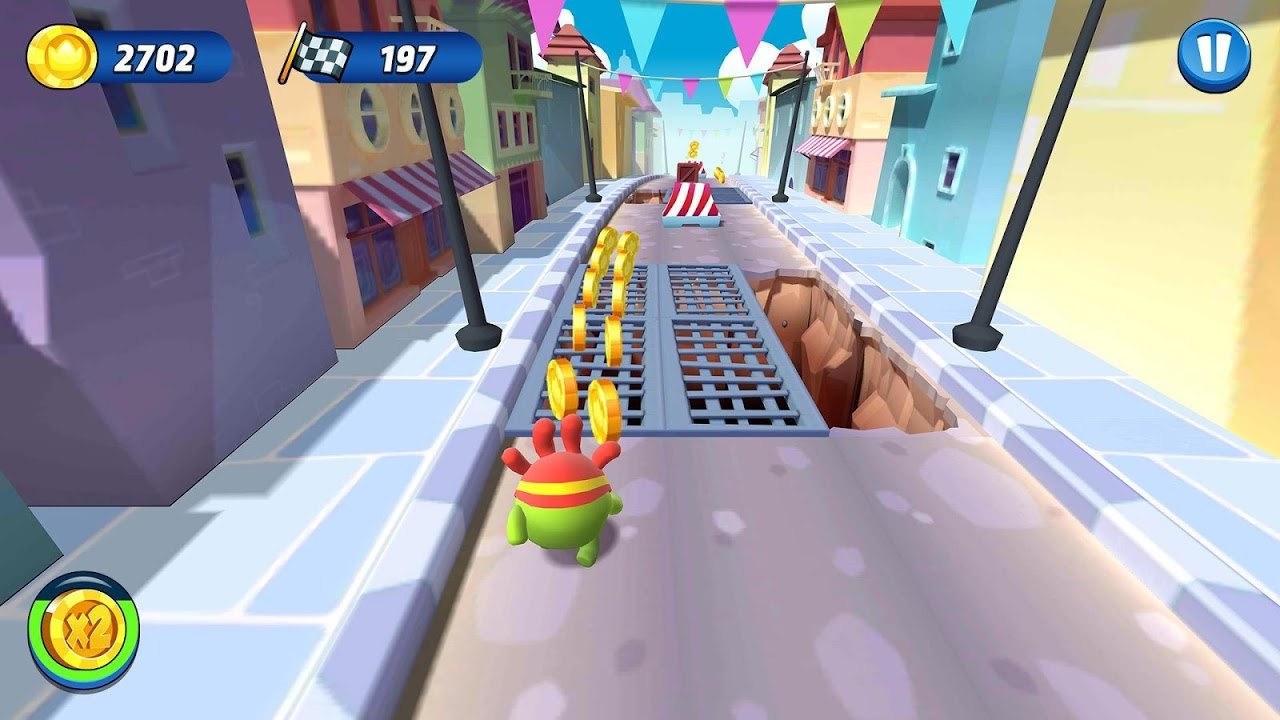 In the mid to late stages, the game becomes more and more difficult. Platforms and obstacles become difficult to move around on and you might end up bumping into them and lose the round. Take the time to go ahead of your path so you can gauge whether to jump on top of the platform or simply switch to another lane.
Controlling your character in the game is as equally important as collecting coins. Better control means having the skill and timing to gather coins. Don't hesitate to switch lanes if you think that it might be impossible to cross a platform or perform a stunt.
Focus on the Mission
Make sure to focus on the mission for each level. You can check out the mission objective of each level and focus on them instead of collecting all the coins that you encounter. Meeting the requirements of each mission is more helpful than simply collecting coins.
You will still encounter certain levels that will require you to collect several coins to progress. The idea here is to collect coins while taking the safer lane so you won't bump into an obstacle and risk the entire level.
Do Endless Runs
If you truly want to collect as many coins as possible, try to do an endless run. Keep on pushing for the farthest distance that you can do and collect as many as thousands of coins along the way. You can also do stunts that will increase your ranking in the stunt championship.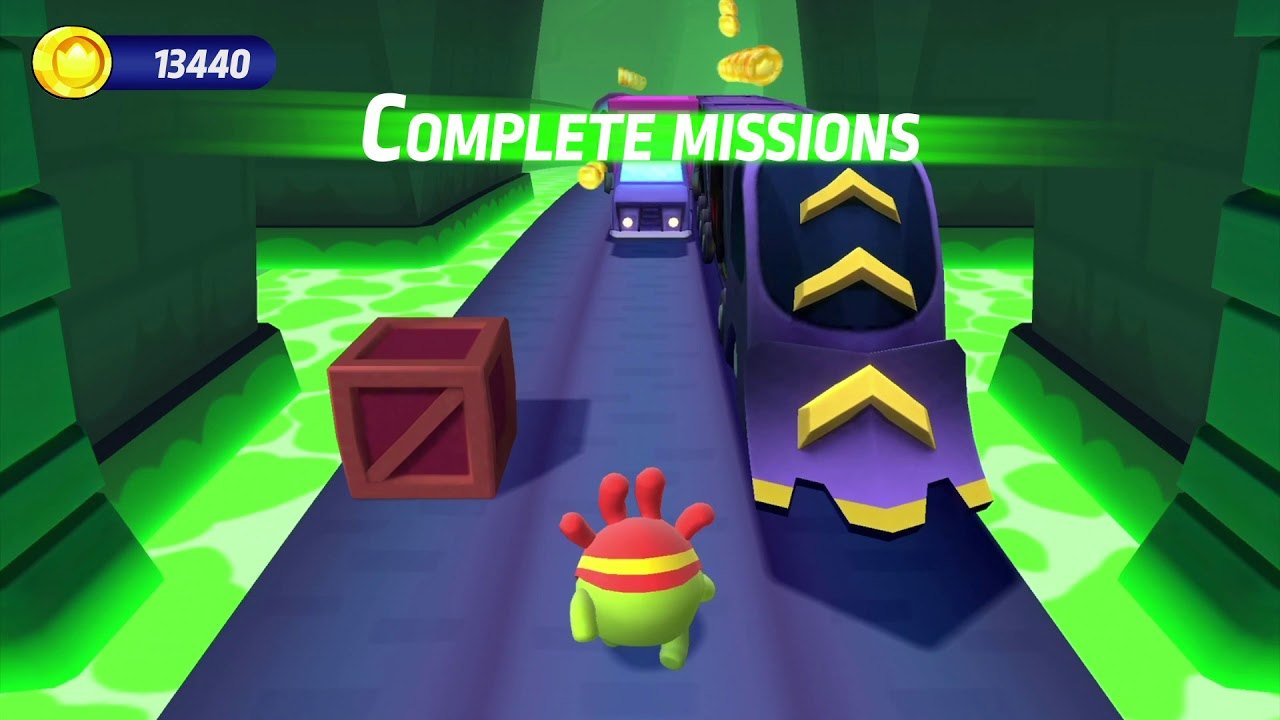 Endless Runs are a great way to farm coins but do make sure that you last long enough. The mode becomes increasingly difficult so you need to watch out for distracting platforms and traps along the way.
Replay Missions
If you are having a difficult time fulfilling all the requirements to pass a certain level, you can always replay the mission. This is highly recommended for missions that need you to perform stunts or reach a certain amount of stunt points. While there are missions that have proven to be difficult to achieve, you can go back and play the mission again and perform stunts.
Replay mission 1 as many times as you want. Mission 1 is an easy level so you can do away with performing stunts and focus on other aspects of the game. However, if you want, you can get as many stunt points as possible after you perfect Mission 1 by perfecting your stunts and landing on the top of the stunt championships in no time.
Watch Videos and Ads
Om Nom: Run is sponsored by many ads so what better way to keep the company and the game running by supporting the game by watching videos and ads. Watching these videos will also let you earn some huge boosts in the game.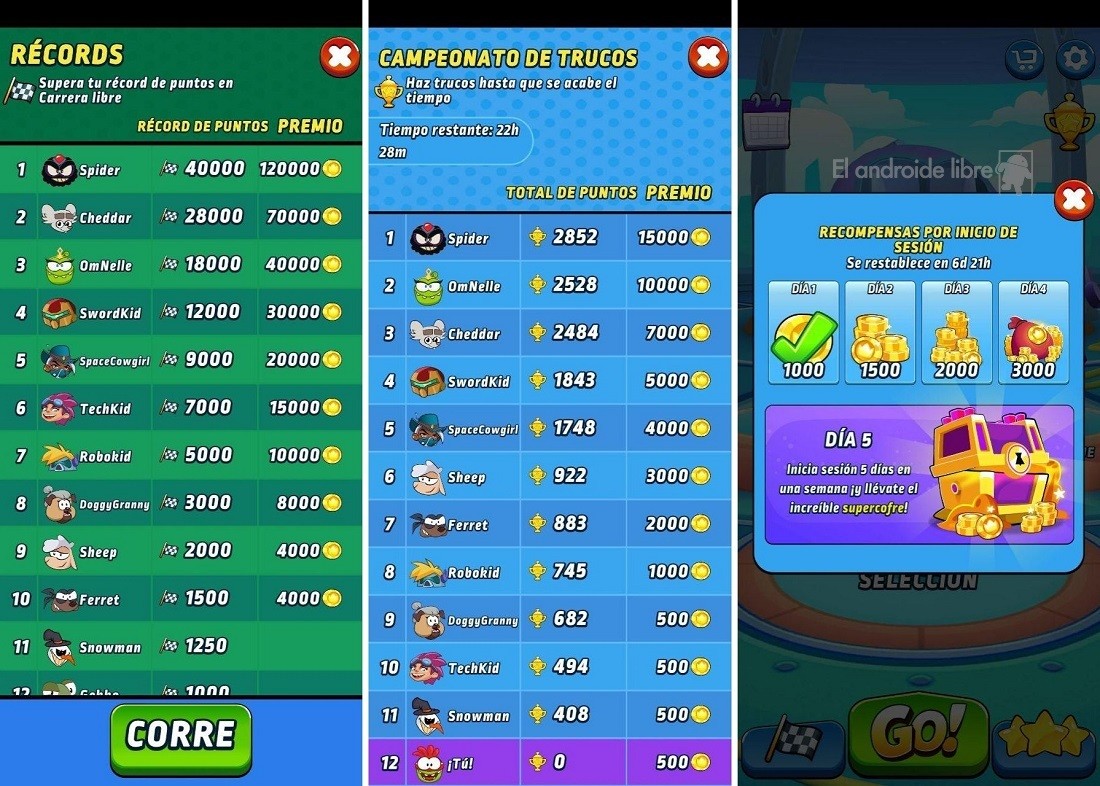 Normally, these boosts include multiplying the number of coins you collect at the end of each level by 5 so instead of getting a thousand coins, you end up having five thousand.
Players are usually apprehensive when it comes to watching ads and short clips in the game. But if you truly want to get more coins, spending a few minutes watching some short clips should net you more coins.
It's only a few minutes and video clips and ads are becoming a norm in free-to-play mobile games.
Login Daily
Just like any other mobile game, Om Nom: Run wants you to play every day. So, the game rewards you with in-game bonuses every time you log in to the game. The first time you log-in to the game for the day will be one of the best rewards that you can get.
The succeeding days that you log in to the game will also net you a good amount of coins. Around the fifth day of playing, you should be receiving a free Super Chest where you can unlock a new character to play with.
Make sure to log in every day for a whole week to get all of your in-game bonuses.
Conclusion
ZeptoLab games may be a newcomer to the mobile gaming world but they are doing a bang-up job. With their On The Rope franchise, they created another hit in their roster of games with Om Nom: Run. With its fast-paced gameplay and awesome mechanics and rewards, players are bound to keep on playing this runner game for quite some time.
Created to be a fun and exciting mobile game to play, Om Nom: Run is being hailed as a must-try mobile game by the millions of folks that have downloaded it.