Enthusiastic gamers know that trends in gaming shift fast, just like in things like fashion, music, and literature. In gaming, there have been a couple of notable trends that have emerged as of late.
One of them is the Battle Royale format, which can be found in Call of Duty Mobile and Fortnite. While Battle Royale is in no way a new thing, it recently rose as one of the most popular formats on various platforms.
And new games have made their own twist on the classic Battle Royale. Free Fire has brought coins and diamonds into the mix which makes it more challenging as players struggle to get those diamonds and diamonds.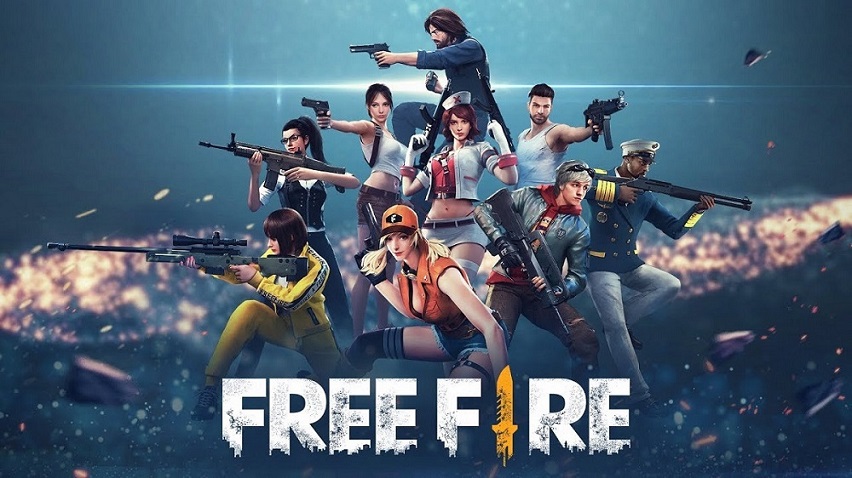 What Is Free Fire?
As mentioned, Free Fire is a survival shooter game published by Garena for Android and iOS. It is a lighter version of the Battle Royale format found in Call of Duty Mobile, which is also published by Garena in some regions.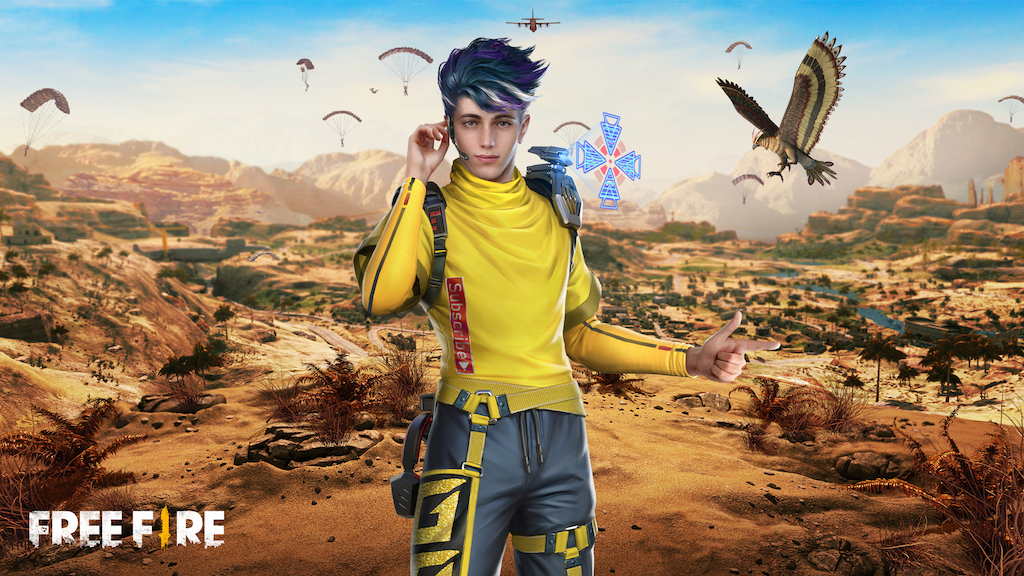 Aside from the BR mode, this game also has a Clash Squad. This pits a squad of four against another team in a bid to win. This mode also lets players manage their resources, get the weapons they need, and strategize to defeat the opponent.
All-in-all, it is considered a "lite" Battle Royale game because of its unique characteristics. Nevertheless, it holds up in comparison with other similar games, especially with its attractive graphics and smooth controls.
Why People Play Free Fire
If Free Fire is a "lite" game, why do people play it instead of or in addition to other BR games? The selling point of this app is its fast-paced gameplay. Instead of 99 other people, gamers will be playing against 49 others.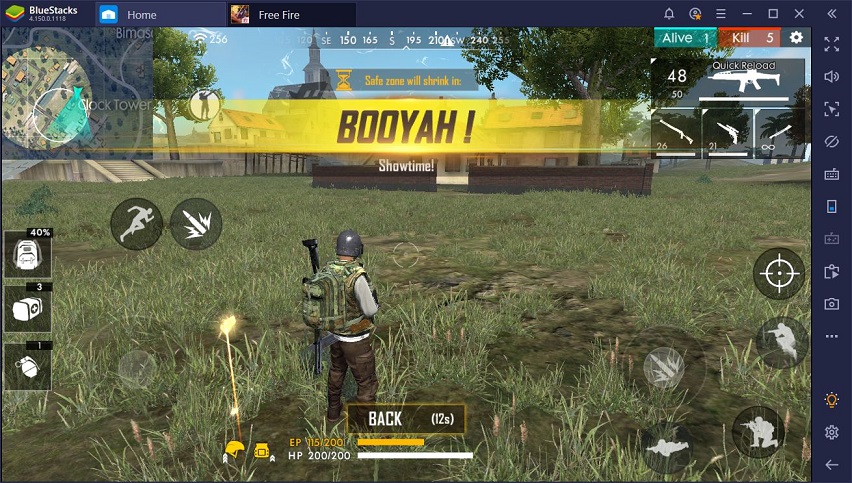 Each session is also cut down as each battle takes only around 10 minutes, instead of the usual 20-minute sessions. Regardless of the "lite" qualities of the app, it still offers high-quality graphics with well-designed characters, weapons, and arenas.
Besides, this game offers a full BR experience complete with features like airdrops, skills, play zones, and looting all in one fast-paced game. This is perfect for people with busy schedules or those who simply need a quick dose of adrenaline.
What Is Gold?
One of the things that make this game a unique one is its in-game currencies, which allows users to purchase characters, weapons, skins, and loot boxes that could give them an advantage. One of these in-app currencies is gold.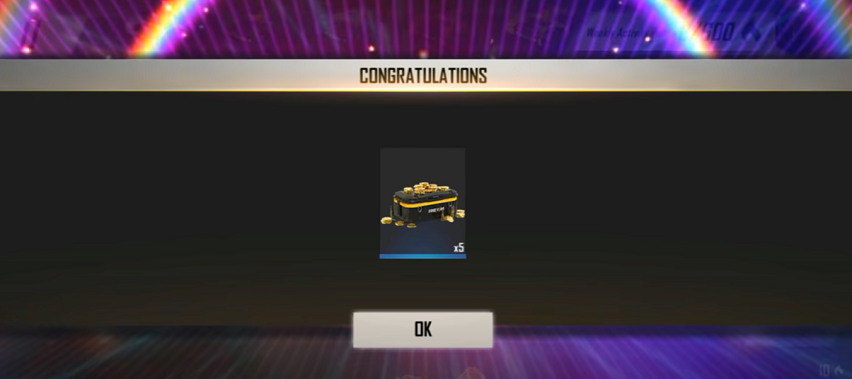 This currency is the more common and less premium of the two. It is much easier to earn, and when gamers purchase using this money, the options are often good but not that exceptional compared to items purchased using Diamonds.
However, keep in mind that each item can cause a whole lot of gold, and while it is easier to earn, getting the right amount of gold to purchase items in the game's store can still take a long time, especially for occasional players.
What Are Diamonds?
On the other hand, diamonds are considered the premium currency of the game. In fact, it can only be earned by purchasing it using real money. However, some techniques can maximize users' opportunity to get diamonds.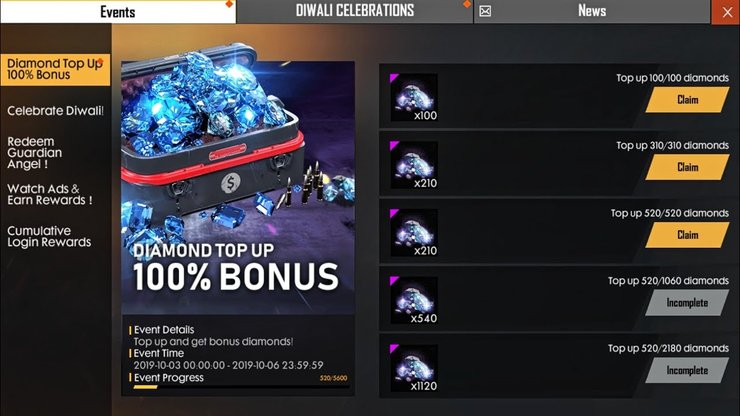 With diamonds, players can get premium items such as skins, outfits, items of clothing, vehicles, weapons, and many others. These are usually rare, especially since many players play for free and do not want to spend real money on the game.
Items purchased using the gold looks great, but those bought with diamonds are more legendary. Players with these items look more intimidating as it shows their commitment to the game and thus may be much better at it than their opponents.
How Players Get Gold and Diamonds
Gold and diamonds are vital aspects of Free Fire because it gives users the ability to modify their characters and make them as distinct as they can. Plus, it makes the game more fun and exciting as they serve as an incentive to play and win.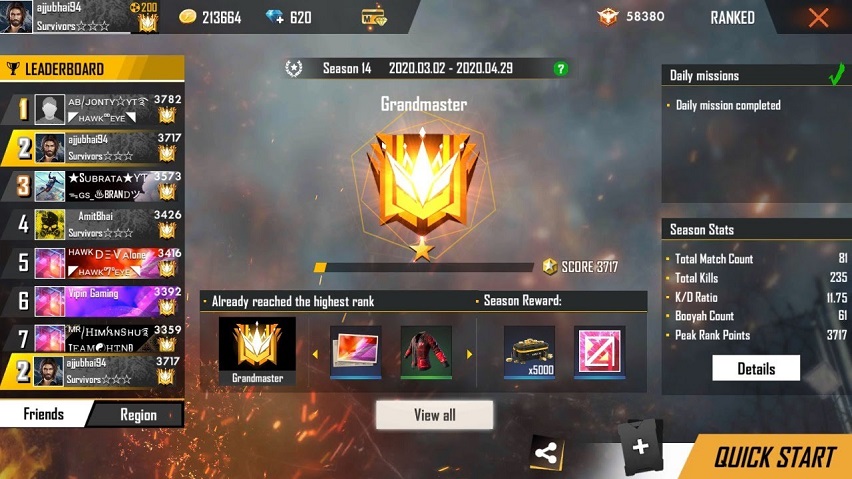 To understand how to get more of these in-game currencies, it is necessary to know how gamers earn them. Here are some of the most common methods.
Playing Games
Those who have played the game know that playing a session lets them earn rewards including items and currencies. Regular games reward players experience points and gold, making it the most reliable way to earn gold.
The thing about this method is the number of golds acquired after every battle varies. The game takes into account the performance of the player when giving out golds. So, it is important to play well for those who want to earn more.
Performing great in every session is also beneficial for the player as they are bound to improve their skills. Plus, they can ascend through the ranks faster with better performance as they can get more experience points as well.
Getting Rewards
Another gamer could do to get currencies is to stick around to get rewards. As mentioned, playing matches result in rewards including golds. However, this may not be a lot, especially for those who are expecting to get more.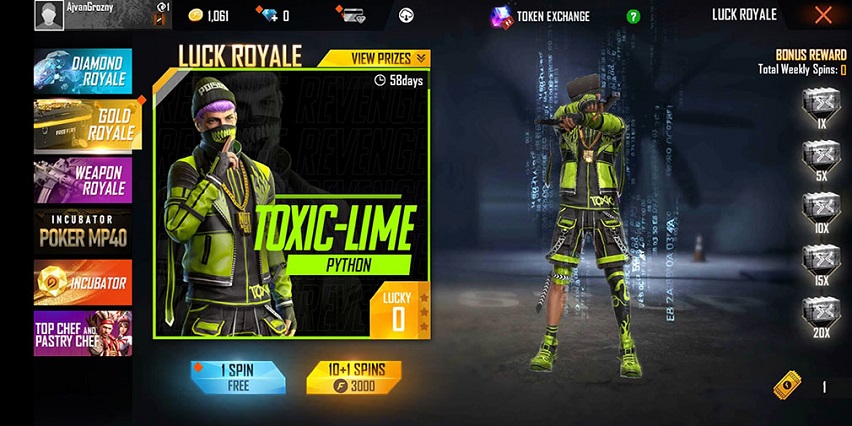 The most substantial rewards players can get are granted at the end of every season. These season end rewards are composed of golds and some items. Remember that the game has a ranking system. The substance of the reward will be based on the user's rank.
Buying In-Game Currency
For diamonds, the most common method is to purchase them using real money. Professionals and dedicated gamers may have no problem with this, but free to play players may hesitate in doing so.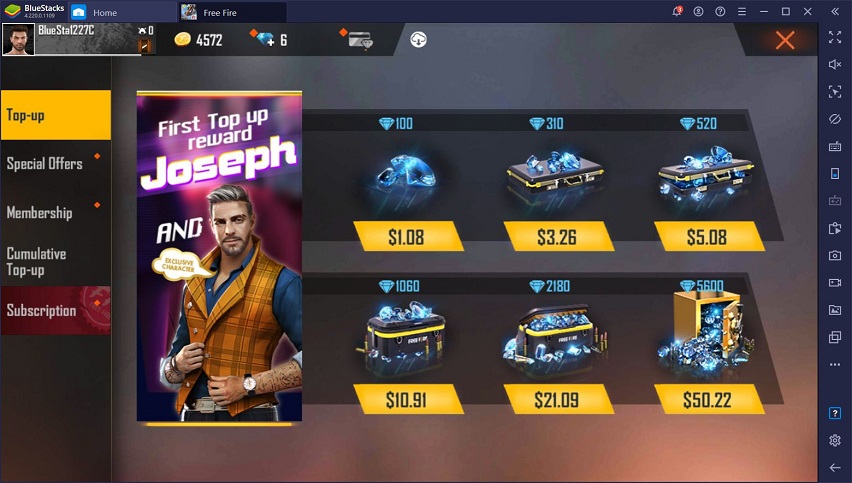 However, there is no doubt that buying diamonds is the easiest and most reliable. The price of diamonds ranges from as low as $1.08 for 100 to as high as $50.22 for 5,600.
Getting More Gold and Diamond for Free
The best thing about Free Fire is it is free to play, which makes it attractive for many players who are not able to spend money on games. What's better is that there are ways to get free in-game currencies.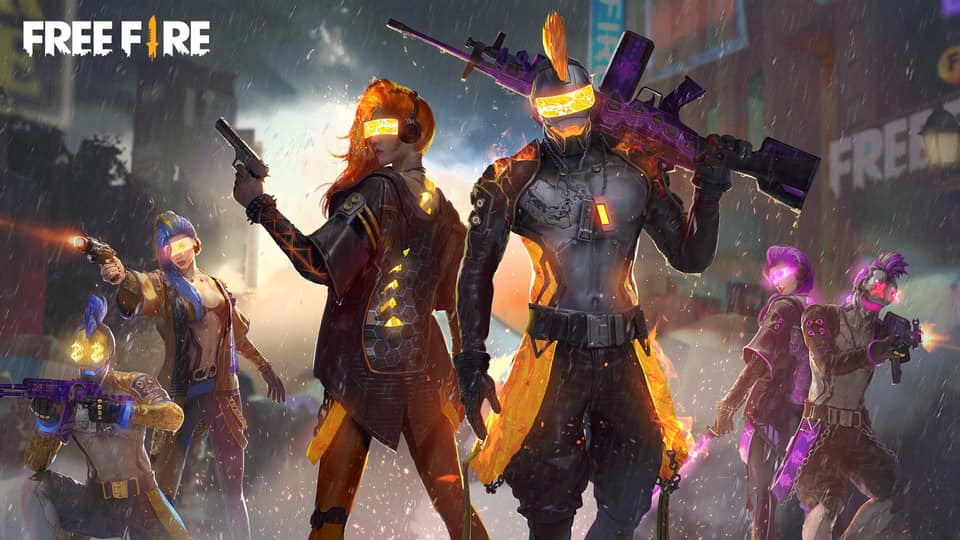 With knowledge of the most common ways to get these items, players can strategize to get the most out of the free methods. Check out some of the most effective ones.
Invest in a Membership
Diamonds are hard to come by for free, leaving players thinking that they have no chance to obtain some. However, those who can spare a few dollars for a membership can get the next best thing.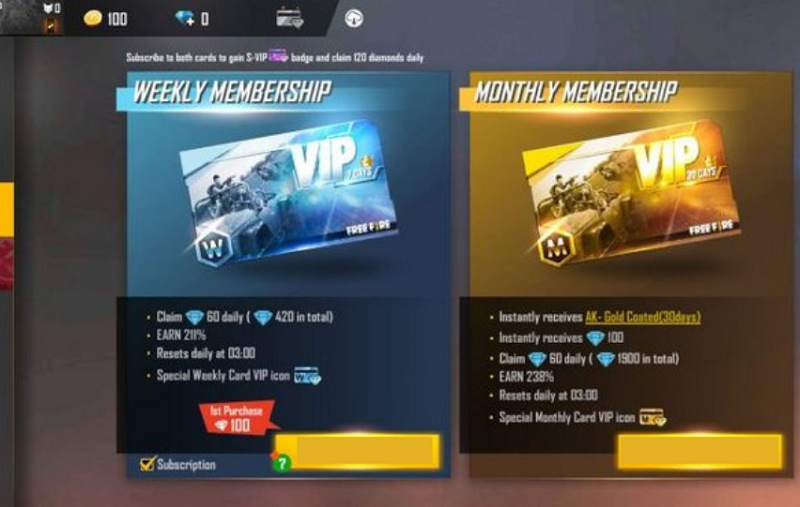 Memberships cost $1.99 for a weekly pass or $7.99 for a monthly pass. This offer guarantees daily diamond rewards amounting to a total of 420 per week or 1,900 per month.
Plus, those who choose to purchase both can get an S-VIP badge, which will allow them to earn twice the amount.
Participate in Events
Those who are really not able to spend a single dollar on a game should participate in events. These are special offers that gamers can play in order to get rewards. Sometimes, a few diamonds are given along with other items.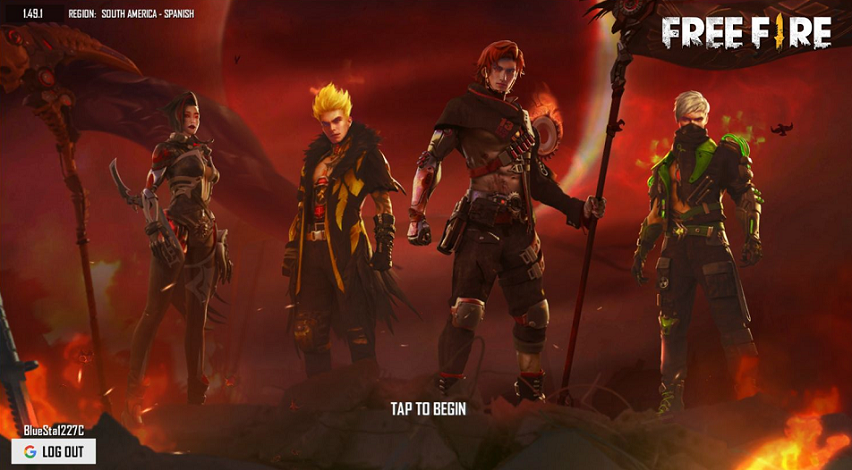 However, it is important to note that events that give out diamonds are few and far in between. Players need to check the events page regularly in order to find ones that suit their needs.
Come Up with a Strategy
For golds, one of the most reliable methods is to play games. However, players need to play smart in order to make the most out of every match. This calls for some sort of strategizing to give the best performance.
With Battle Royales, it is important to remember that being as close to the number one spot is always better, however, being the lone survivor is always the best. So, players must strive to be the only ones to survive every game.
Before every game, gamers should have an idea of where they want to land and how to maximize their skills and weapons. This can give them a valuable advantage that can help them win and get more gold.
Login Daily
With the discussions above, it is clear that rewards are the best source of both diamonds and gold. This is why players should know the primary sources of rewards that can give them as much gold and diamonds as they can get.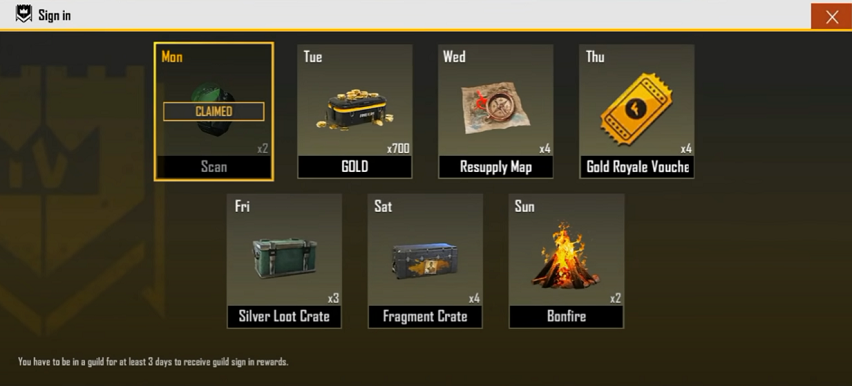 Daily logins are some of the simplest and most reliable ways to get golds, and if they have memberships, diamonds. While this game is suitable for those who can spare little time in-game, getting daily rewards is as easy and fast as it gets.
Aside from daily logins to get the rewards, players can also be reminded to check the rewards page, especially as they are already inside the app. Plus, if they can, they can squeeze in a game or two.
Conclusion
Battle Royale games are intense but having gold and diamonds to look for takes a bit of the edge off. Free Fire is a great game for those looking for a fast-paced yet exciting and fun experience.
With gold and diamonds, players can make the most out of the game and make their characters truly their own.