The original Fruit Ninja mobile game came as a surprise when it launched in the middle of 2010. The gameplay is simple and you get to have fun slicing tossed fruits up in the air and truly feel like a ninja.
Soon the game became a worldwide success with its addictive gameplay that garnered over 300 million downloads. Almost a decade later, Fruit Ninja introduces us to its official sequel Fruit Ninja 2.
Check out the article below to know more about the sequel, what it offers, where to download, how to play, and see if there are any differences between both games.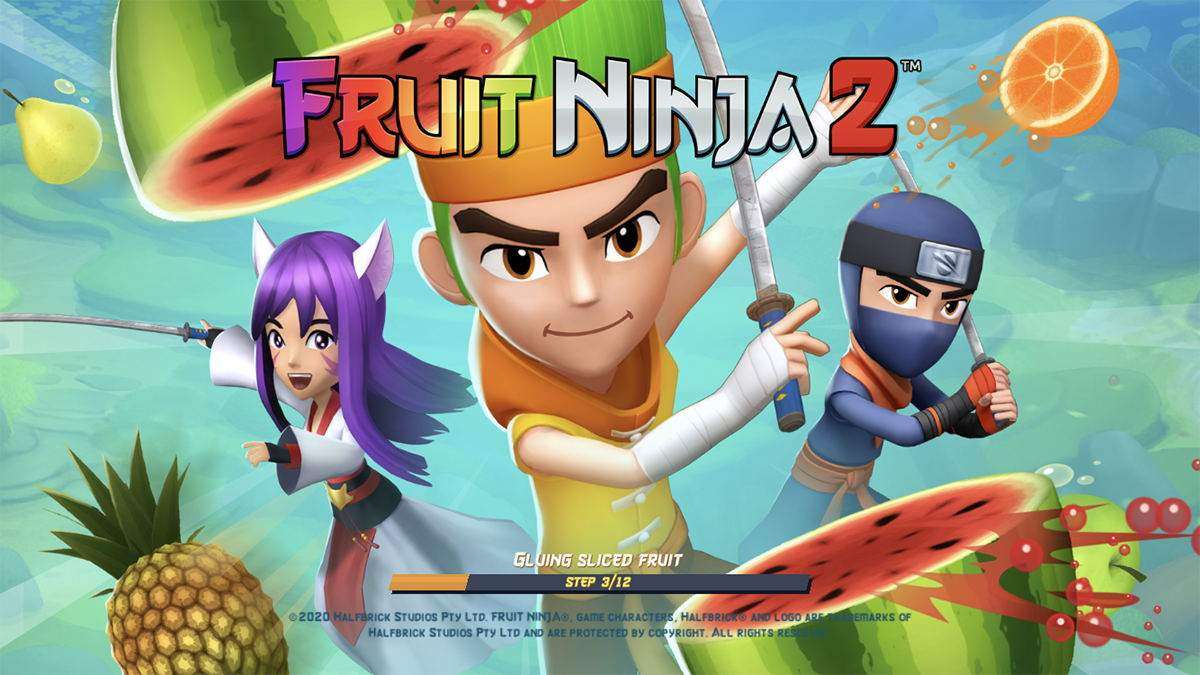 About Fruit Ninja 2
Fruit Ninja 2 is a direct sequel to the classic Fruit Ninja game. Some may argue that Fruit Ninja 2 is a revamped version of the original game since it has almost the same features alongside new ones.
However, Fruit Ninja 2 offers more for players to experience including game modes, minigames, and events. Players can take on solo game modes like Arcade and the Classic mode or play the newest 'Fruitar Hero' mode where you get to slice fruits to the rhythm of the music.
Share your progress with your friends or invite them to a multiplayer game mode where you can slice your way to become the next Fruit Ninja Champion.
With new characters, skins, features, game modes to choose from, Fruit Ninja 2 is set perfectly to become the next big hit for mobile gamers.
Where to Download
Fruit Ninja 2 launched in late 2020 and is now available for download at the Google Play Store for Android devices and the App Store for iOS devices.
Search for the game using the title and tap "Install" or "Get" to download the game. Wait for it to fully install and launch the game by tapping "Open."
The mobile game is free to use, so it will contain ads. You also have the option for in-app purchases.
Improved Features
The premise of the game is rather simple. It is very similar to the classic Fruit Ninja game where you slash fruits and avoid dropping them. You will also encounter different items that you need to avoid such as bombs.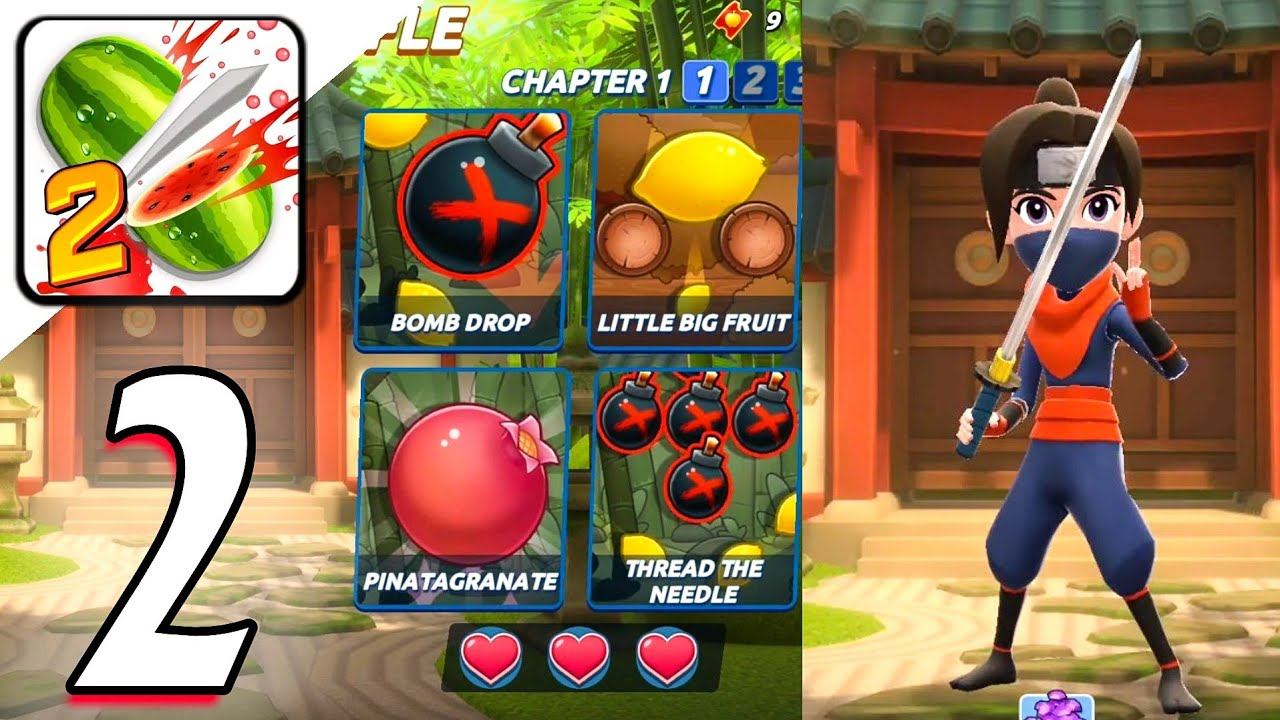 Slashing fruits quickly will also net you a combo score. Each time you win a round you earn rewards that you can use at the store to earn gems and unlock characters, new looks, and even new weapons that increase your score.
One of the major differences between the classic and the sequel game is the graphics. Fruit Ninja 2 offers more lively and detailed graphics than the original game which makes it even more fun and immersive.
Second, Fruit Ninja 2 features more game modes and improves the classic ones such as Arcade mode where you only get 60 seconds to earn as many points as you can.
New Features
Power-ups are also now used in this game. Mini-games and daily quests are also featured in Fruit Ninja 2. Through daily quests, you get a good amount of experience to get even more rewards from the game.
Other features like the Season Pass and League are also new to Fruit Ninja 2. Players can also grow their fruit in the Garden. Harvest plants for the experience or gain blade shards to get the blade of your choice or even grow gem plants to harvest gems for your character.
Tips to Play
This sequel might have the brightest graphics and the fanciest effects but the gameplay has stayed relatively the same as the original. But this does not mean that Fruit Ninja 2 is easy to play.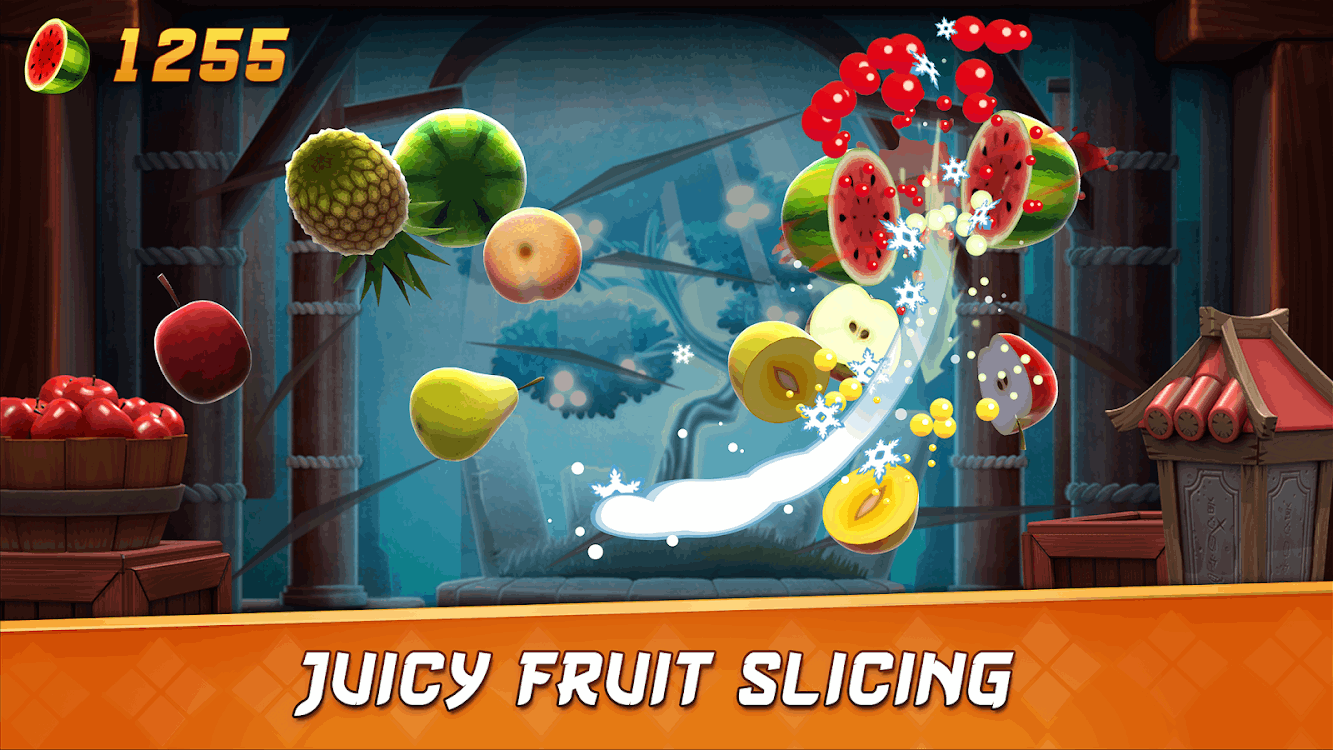 This only means that the game has been upgraded to suit the new generation of gamers that are highly competitive, hence the new features.
For this reason, players would need the help they can get to get better at the game and pull off some massive combos or get to the top to become the ultimate champion. Here are some tips to play Fruit Ninja 2.
Steer Clear of Bombs
It goes without saying that the most basic rule in this game is to avoid slashing the bombs. Apart from fruits being tossed up in the air, players will also encounter bombs along the way. Slashing bombs will trigger them and this means you end up exploding all of your chances in this game.
Take a good look at the fruits that are up in the air. If you spot a bomb close to a group of fruits, take short swipes to take out the fruit. Avoid using long strokes as it will most likely hit the bomb near the fruits.
You will have to sacrifice a few fruits along the way. Make sure that you don't do anything fancy when you encounter a bunch of fruits that are paired with a bomb. Short and simple swipes are all you need.
Use Blades in Multiplayer
Blades don't have any effect in the game if you are playing the single-player mode. They only give you that extra spark when you slash the fruits on your screen. These blades are more impactful when played in multiplayer mode.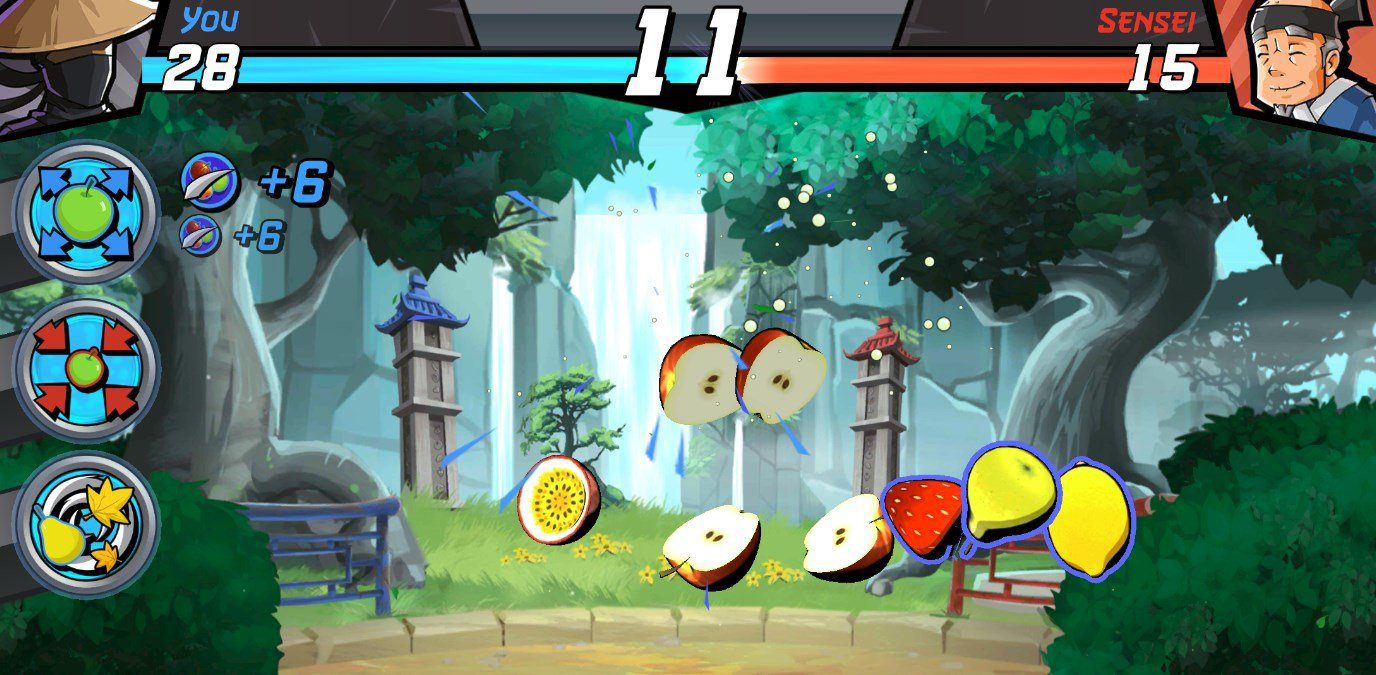 There are different types of blades that you can unlock in this game. Each blade has different benefits that will make a difference when you play against another player in multiplayer mode.
Some blades feature critical strikes while others give you an extra bonus when you do a combo.
Play League Mode
By the time you hit level four, you will unlock more features in the game. One of which is League play. In League mode, you get to play with other players in the game and open up the ranking system.
Through this competitive game mode, you encounter different players and you can even learn a few things about the game and how they play it. Win more games in this mode to get even more rewards.
Watch Videos
Upon reaching level five, you unlock the in-game store where you can purchase different items to help you in the game.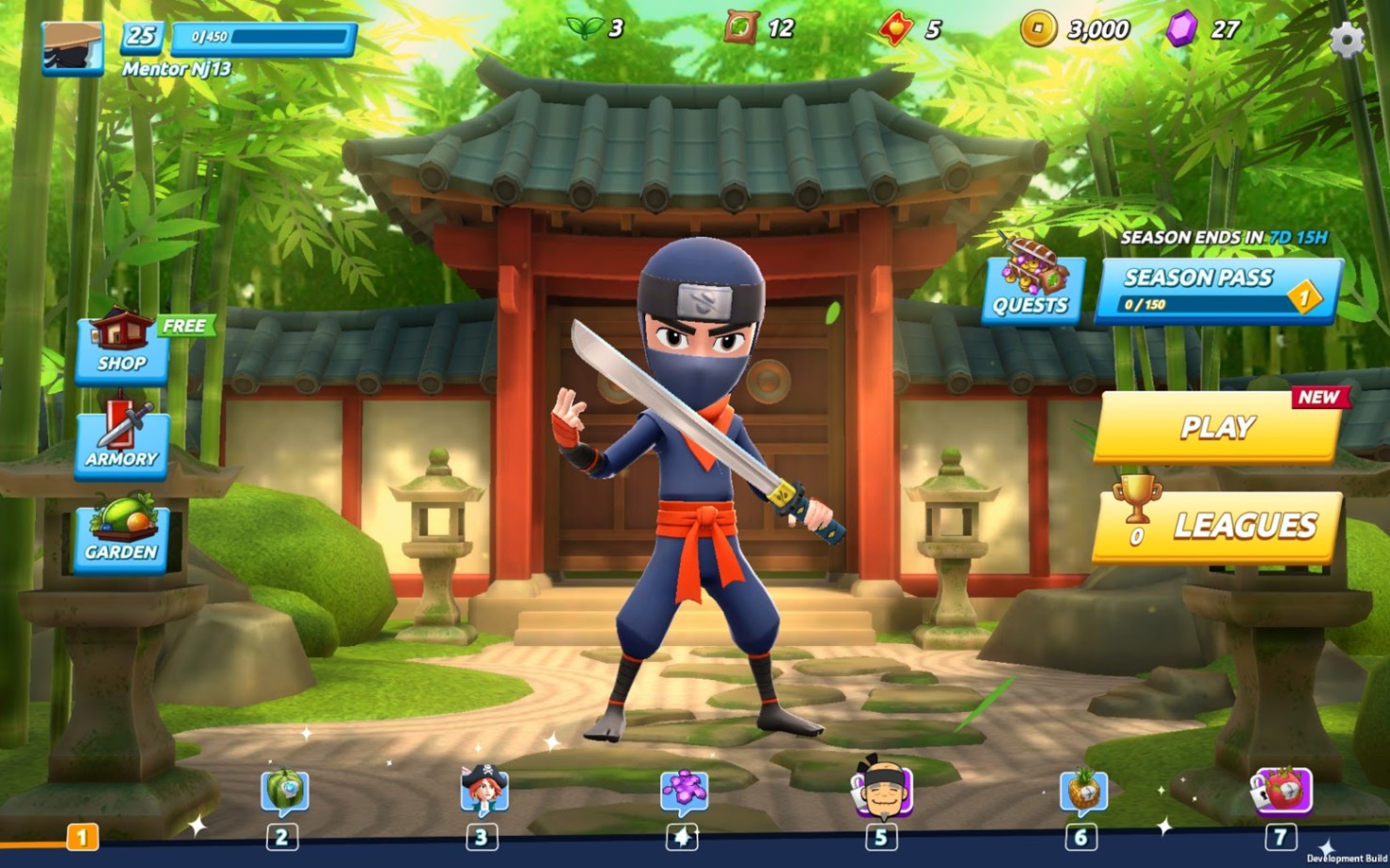 You also unlock videos where you can watch to gain experience points. Watching these videos will unlock different rewards such as daily boxes for upgrades and sometimes new weapons or characters.
Make sure to check out the in-game store once every four hours to see if there is a new video available to watch.
Plant More in Your Garden
One new feature in Fruit Ninja 2 is the garden. It can be unlocked when you reach level seven. The garden is a place where you can grow your plants, tend to them, and harvest them when they produce fruits.
Most of these plants usually grow within the hour and others tend to produce fruits in a couple of hours or an entire day. You will need to take good care of them by giving them water regularly and fertilizers to help them grow.
Once they produce fruits, you will be rewarded with items such as gems, gold, power-ups, and more, so never forget to grow more plants in your garden. You can farm the items that you need in this game from within your garden.
Join Events
Now that you have spent a lot of time tending to your garden and playing with other players in League mode, make sure to join events.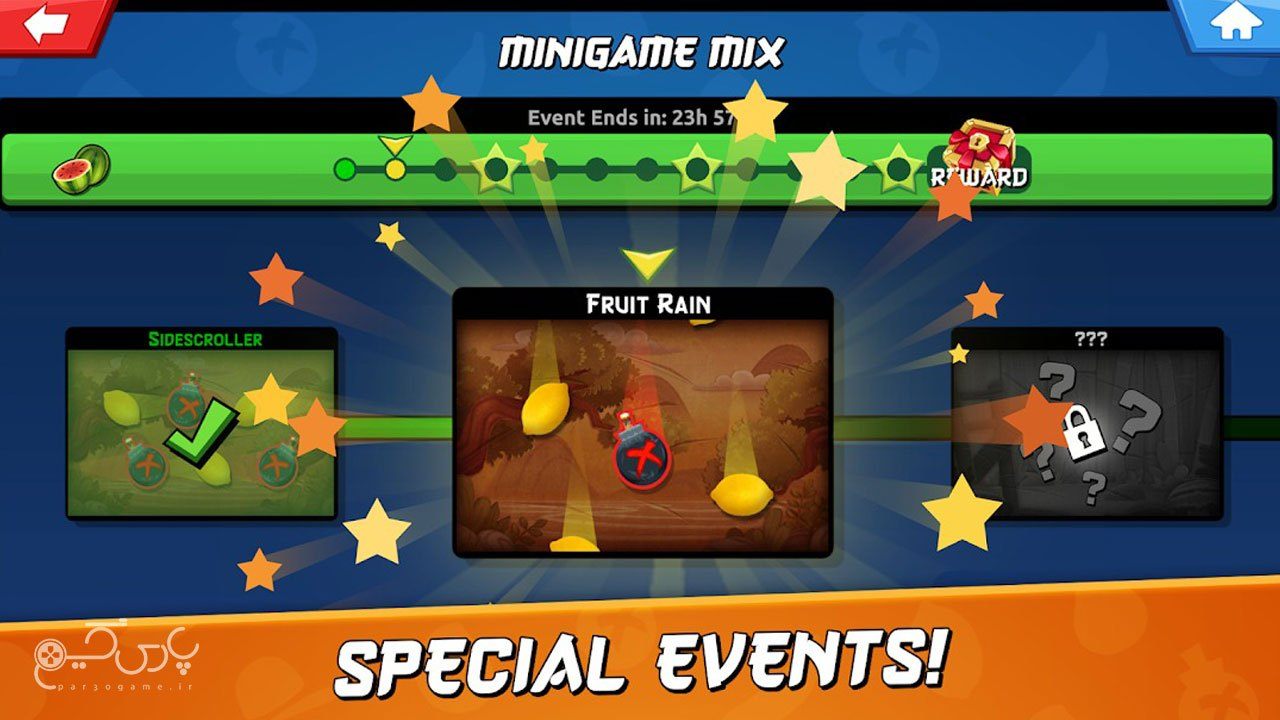 These events offer more rewards that are normally given in the game which can provide you with more advantage in multiplayer games against other players.
Check out the events menu on the right side of your screen and see if any events are running at the time.
Focus on completing these requirements of the events before you get back to playing either single-player or other modes. Some of these events require a lot of time to complete so set aside time to finish all the quests from these events.
Spend Your Gems Wisely
Once you have unlocked the ability to shop in the in-app store, you can spend your hard-earned gold coins and purple gems to get the best items possible from the game. You can use them for Blades that give you a nice boost when playing multiplayer mode.
You may also check out the daily deals where you get free items. Other items available in the store are loot boxes, experience multipliers, and power-ups.
The Season Pass also provides you with extra rewards that you get from leveling up the pass. Make sure to spend your gems and gold coins wisely so you can maximize the potential of all the items that you get.
Conclusion
Fruit Ninja 2 elevates the franchise into another level. Now you get to live the dream of becoming a fruit-slashing ninja with different blades.
Fans of the original game will surely find Ninja Fruit 2 a more entertaining version with all the new features and game modes while remaining true to the core gameplay aspect of what made Fruit Ninja successful.