There is no doubt that games that have elements of survival, fortune, and glory are beloved by gamers all over the world. Finding treasures and building things up from scratch keeps gamers occupied for hours and hours as they form their kingdoms and delve deep into the virtual world.
A brilliant example of such games is Terraria – a world where anything is possible. You have choices to make, and the adventure depends on wherever you want to take it!
Crafting, exploring, mining, and combat – there is so much to do in Terraria. Let's find out more about the game!
About Terraria – Land of Adventure
Gameplay of Terraria
Modes in Terraria
Why Play Terraria
Multiplayer Options
Large Community of Gamers
How to Download Terraria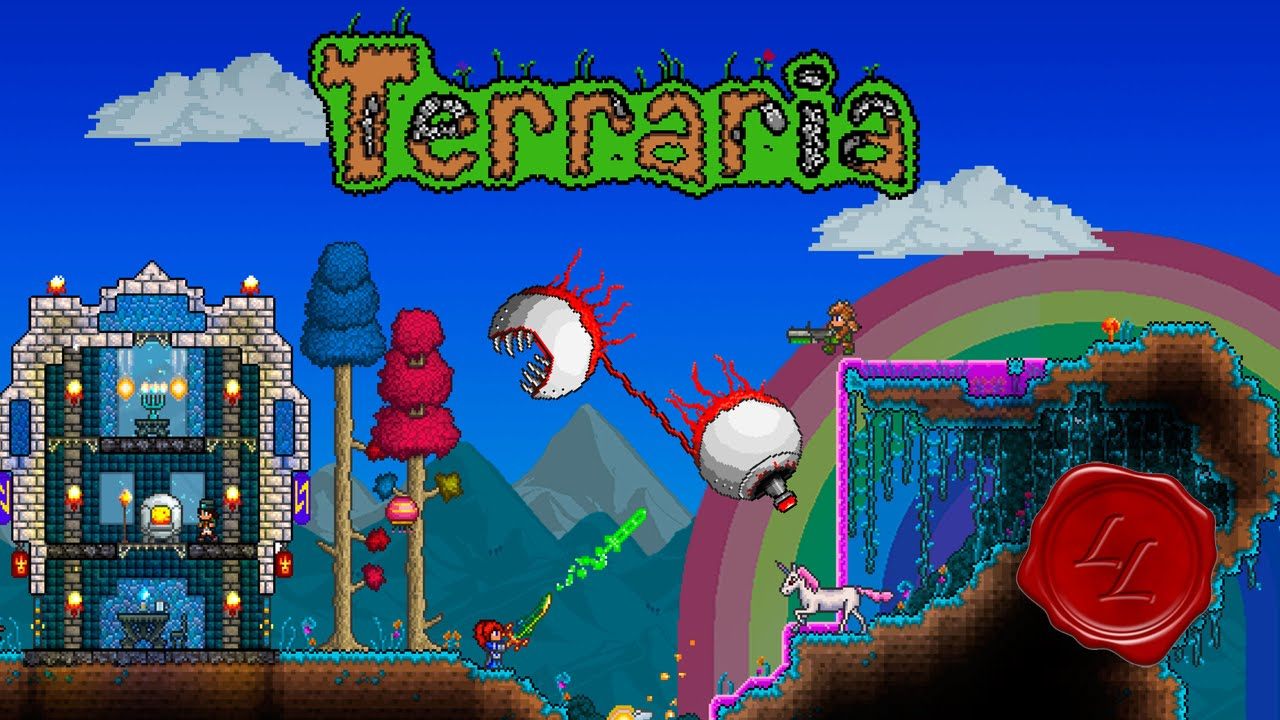 About Terraria – Land of Adventure
What's better than having land of your own that you can shape, defend, and enjoy? In Terraria, your options hold no bounds.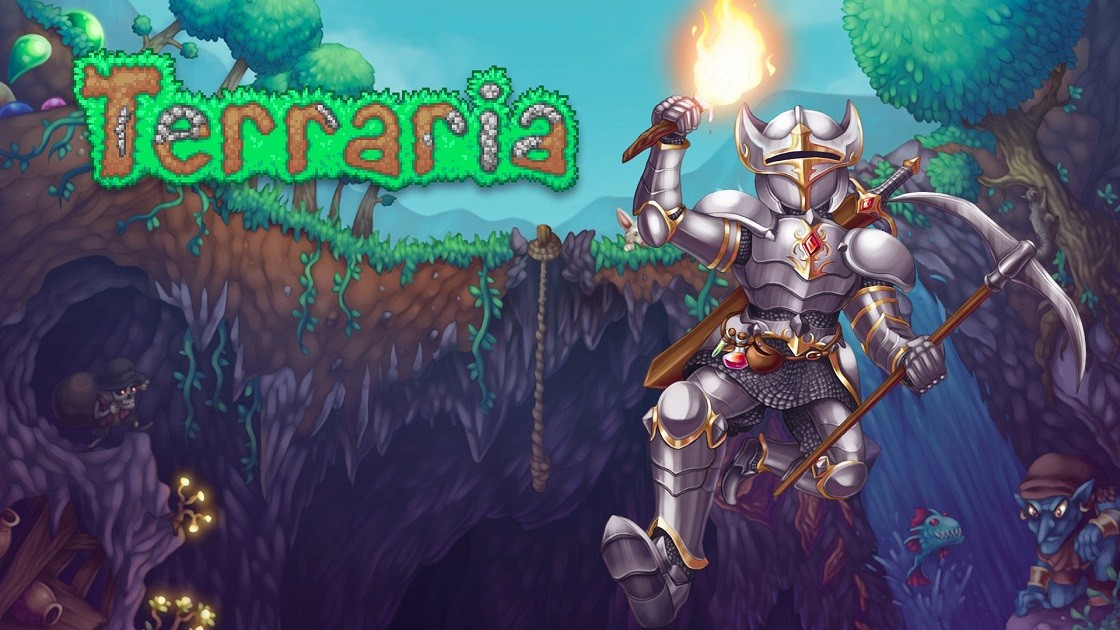 Terraria is a sandbox game featuring action and adventure elements. Sandbox games feature gameplay where players use a great deal of creativity to finish the tasks at hand.
Terraria was developed by Re-Logic and released in May 2011 for Microsoft Windows, and eventually became available on other platforms as well.
By the end of 2020, Re-Logic had sold around 35 million copies of Terraria.
Reason for its Popularity
With exploration, crafting, mining, and combat put together in a procedurally generated 2D World, Terraria can easily stand shoulder-to-shoulder with the world-famous game Minecraft.
While the game does have objectives for players, it also allows them to take the game at any pace they prefer.
While playing, the gamers can take their time and sort out their strategy before moving forward.
Gameplay of Terraria
As the game starts, players will only have a few tools in their hands as they're asked to start building. The world in Terraria consists of many layers of tiles, and the players will find that they can interact with these tiles and modify them the way they please.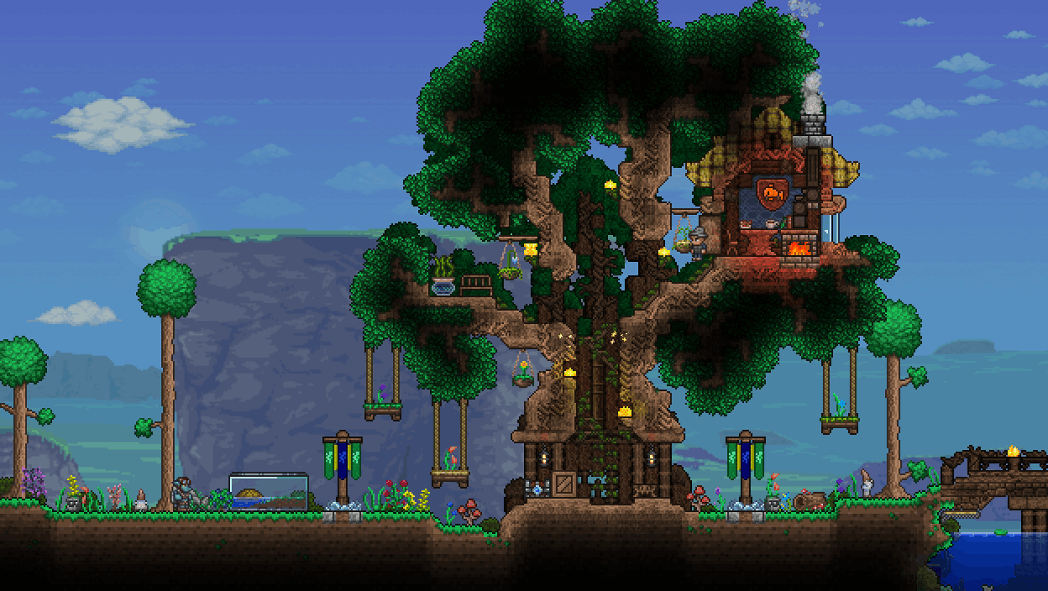 Starting off, players will have very low health and mana, which is the ability to use special spells and powers.
However, by finding resources that are stored in common and rare containers or materials dropped by enemies, you can increase your health and mana.
These resources can be used to craft items at crafting stations with a recipe. Players can also explore caves where they can find helpful resources like metal ores.
Enemies in Terraria
Players will also encounter many types of enemies while playing Terraria. Skeletron, Duke Fishron, The Destroyer, and so much more.
These enemies can be fought off with swords, bows, magic spells, and you can even summon minions to defeat them!
There will be boss battles, and if you win these, you could find rare items as well.
Modes in Terraria
You can choose between three modes when beginning the game: Journey Mode, Expert Mode, and Master Mode. Journey mode allows you to make a range of customizations during gameplay, such as duplicating items, changing time and weather according to your preference, and changing the difficulty.
This mode was created to make it a 'tourist' or a 'creative' mode where it is easy to collect items and explore. You can only access the Journey mode while using Journey characters and only in Journey worlds.
In Expert mode, difficulty greatly increases along with the quantity/quality of drops, meaning enemies drop 2.5x the amount of coins as before. The chance to obtain rare items also increases in Expert mode, and pots will drop more items when they are broken, including rare items.
The bosses in this mode will have increased health than they did before, and in multiplayer, the health increases even more!
Master Mode
If you think you're the best at playing Terraria, go for Master mode. It increases the difficulty levels beyond the levels of Expert mode, and it also offers exclusive items in Master Mode.
Some of the changes in Master mode include enemies having 50% more health and 10% more knockback resistance as compared to Expert mode.
Why Play Terraria
There are many reasons why you should pick Terraria over other sandbox games. The qualities and features in Terraria provide a unique gaming experience to the players where the journey and the game destination are completely in the hands of the player.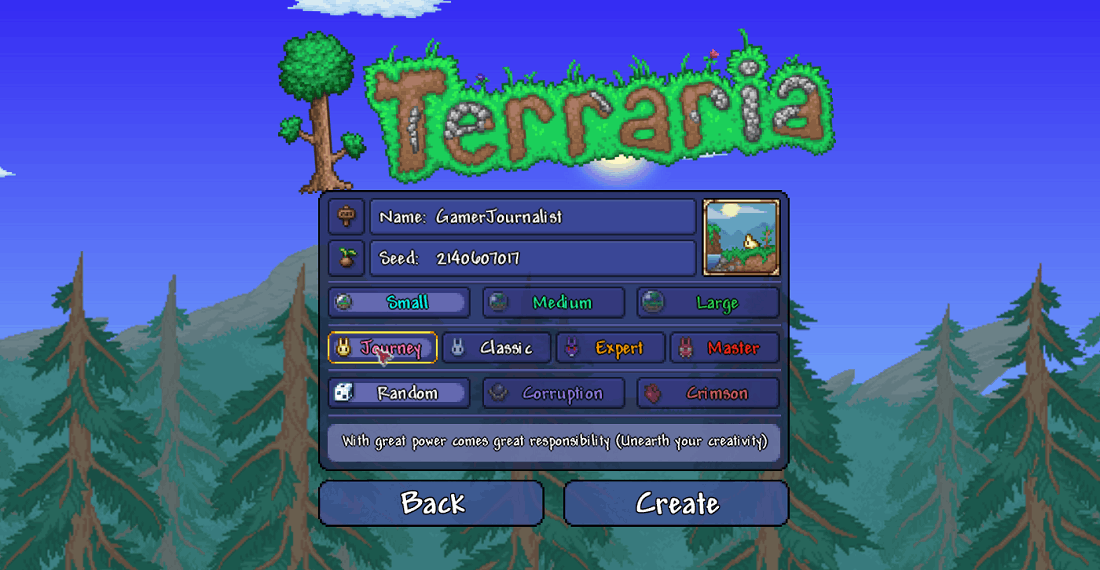 In Terraria, you get to fight evil using magic spells – something that isn't found in other sandbox games. You can find resources from treasures and raw materials to create gear, machinery, and other aesthetics in the game, making it fun and exciting along the way!
The city that you build from scratch will be a portrayal of your hosts and all the allies that you find during your travels. If you aren't looking to get entrenched in a story and would rather prefer to mine, craft, and fight bosses – Terraria is the game for you. Let's discuss more!
Extensive Crafting System
The essence of Terraria is based on crafting and collecting, most of which is extensive. This makes the gameplay very interactive for users. Most of the items that you find in Terraria will be used to make other items but on specific crafting stations.
For example, you can craft tables and similar items on a workbench, you can smelt bars from the ore at furnaces, and you can craft armor at anvils. There may also be many operations in crafting that would require the product of one recipe to be used as an ingredient for another recipe.
Through owning gear and utilizing resources, Terraria also works on the player's character advancement and the way it defines the character's abilities and skills.
Multiplayer Options
You can play Terraria with up to eight players. This also includes the worlds that you have in single-player mode. Through the multiplayer option, the game allows a larger co-op, and you can play PvP games if you're interested in them.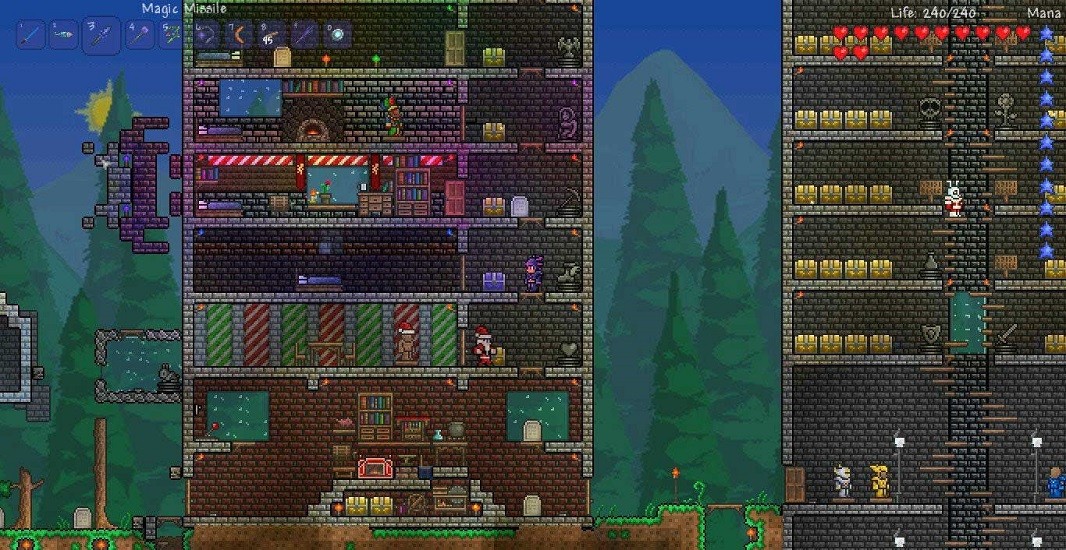 The choice is all yours. You can play however you want with these eight people, meaning that you can either build something huge together, or you can destroy other people's bases as well! It all depends on your strategy and the way you want to play the game.
Retro-Platformer Style Gaming
Terraria is proof that you do not need the element of suspense in games to make it exciting. The game uses arcade action and vivid palettes in order to make the experience worthwhile and fun.
The elements of arcade action and survival go hand-in-hand when it comes to Terraria, proving that the combination can be shocking and thrilling at the same time.
Large Community of Gamers
One of the best things about Terraria is the way its community of players is spread all over multiple platforms like mobile, console, and desktop as well. You can play on as many servers as you please and enjoy tutorials of these!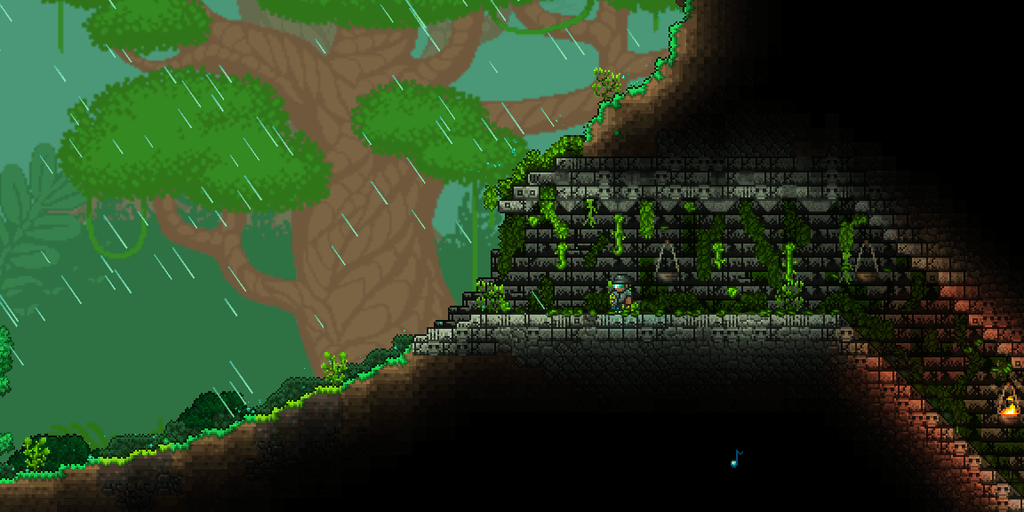 It doesn't matter if you have just started playing the game because the community will guide you through content and help you get set-up in the world.
An Intriguing World
The soundtrack of Terraria is very upbeat and helps to settle the mood when it comes to the vivid world this game is all about.
There is so much to explore in the world, starting from events such as the blood moon making the dead rise up from their graves and cave systems that are dark and vast.
You will also come across armies of goblins destroying all you have, and a number of odd creatures along with dangers in every corner.
How to Download Terraria
You can play Terraria on your Windows, Mac OS X, and SteamOS + Linux by buying it through the Steam website for only $9.99.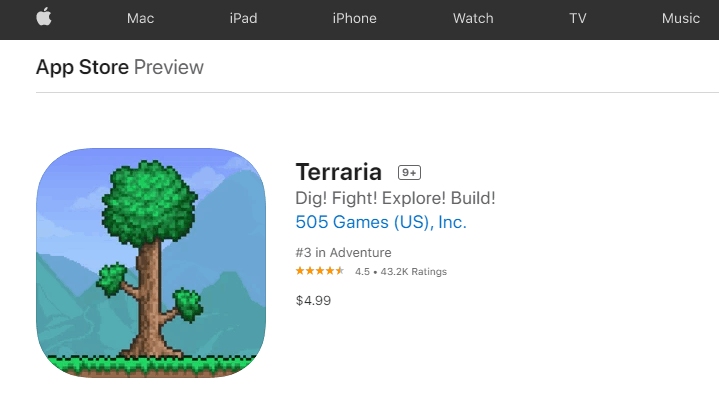 You can also purchase four copies of Terraria for only $29.99 and share them with your friends!
Other than that, the soundtrack is also up for purchase for only $2.99.
Terraria for Mobile
Prefer playing on your phone? Don't worry, you can play Terraria on your Android devices and Apple devices too!
For just a price of $4.99, you can purchase Terraria through the Google Play Store and the App Store as well. Just search for the name 'Terraria' and click the 'Buy' link to get started.
Conclusion
In short, Terraria is a game where you can do anything and everything. It's all up to you, as long as the game allows you to have the choice to make anything happen!
Players will develop their critical and creative skills while playing Terraria, making it suitable for people who love to explore new things and find new ways to deal with situations. This aspect also makes the game a good one for players of all ages.