With the sudden popularity of mobile MOBA games, it's a given that Pokémon would soon become part of this genre with the release of Pokémon Unite. Pokémon Unite lets you team up with players from all over the world to battle against each other.
Join hundreds and thousands of Trainers as you level up and equip items while you and your team battle to victory. Put your strategy to the test and go for the win.
Teamwork is key to victory so you will need all the help you can get. In this article, you'll learn how to play Pokémon Unite, get familiar with the controls, where to download the game, and more.
How to Play Pokémon Unite
Know Each Role Within the Team
Use the Battle Prep Menu Effectively
Look at the Map and Play for Objectives
Upgrading Your Held Items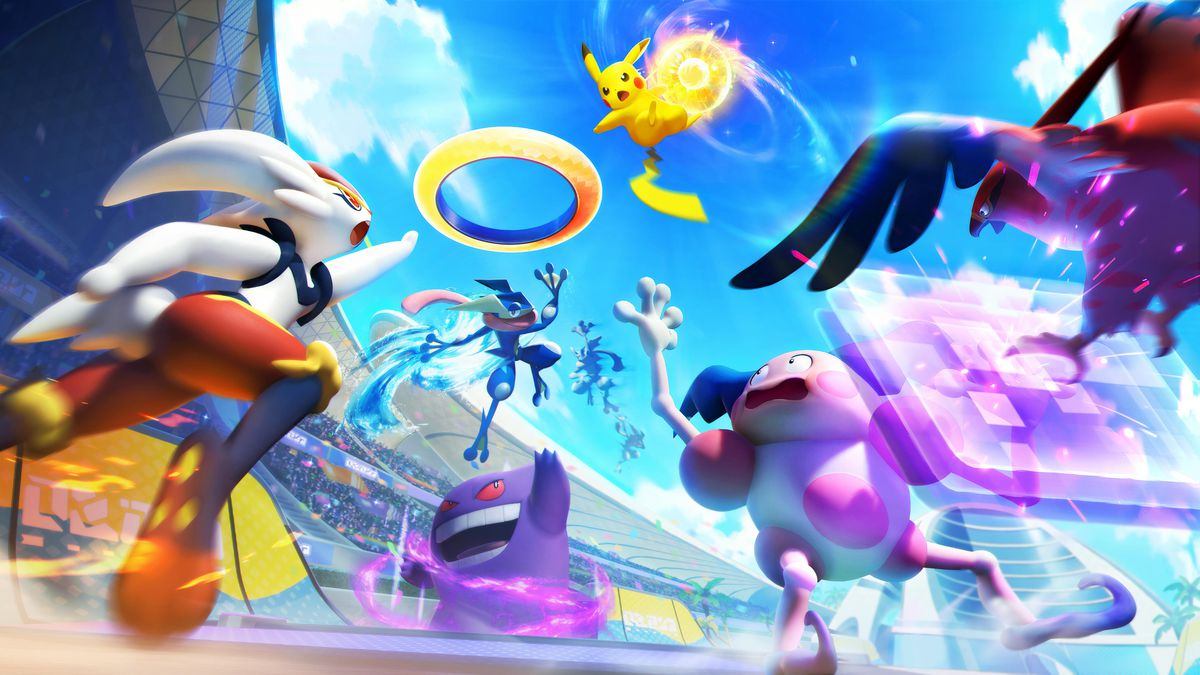 How to Play Pokémon Unite
In Pokémon Unite, players are put into two teams with five members each. Each member of the team has a role to play to secure victory.
In Remoat Stadium, the main goal for each team is to get Aeos Energy and place them in the enemy goal zone. The team that scores more at the end of each match wins the game.
While the game is quite easy to play, Pokémon Unite also brings an in-depth strategy with its wide variety of Pokémon to choose from and some interesting objectives to spice up the game.
Every game you play in Pokémon Unite is unique, and the next match you play will always be very different from the previous one. This makes it exciting to play.
Get Familiar with the Controls
Whether you're playing on your mobile phone or the Nintendo Switch, it is always best to become familiar with the control settings before playing the game. The tutorial provides basic knowledge of how controls work for each platform.
Once you've understood how each button works, you might want to change the recommended settings to a more personal setting. You can also use the recommended settings if you're already comfortable with them.
Getting familiar with the controls allows you to be comfortable with your hand and finger placements in the game. This should allow you to have more fun and healthy experience in the game without having to deal with painful wrists or joints.
Know Each Role Within the Team
There are five specific roles on the team to be fulfilled by each player. Each role contributes to the goal of the game – to win each match.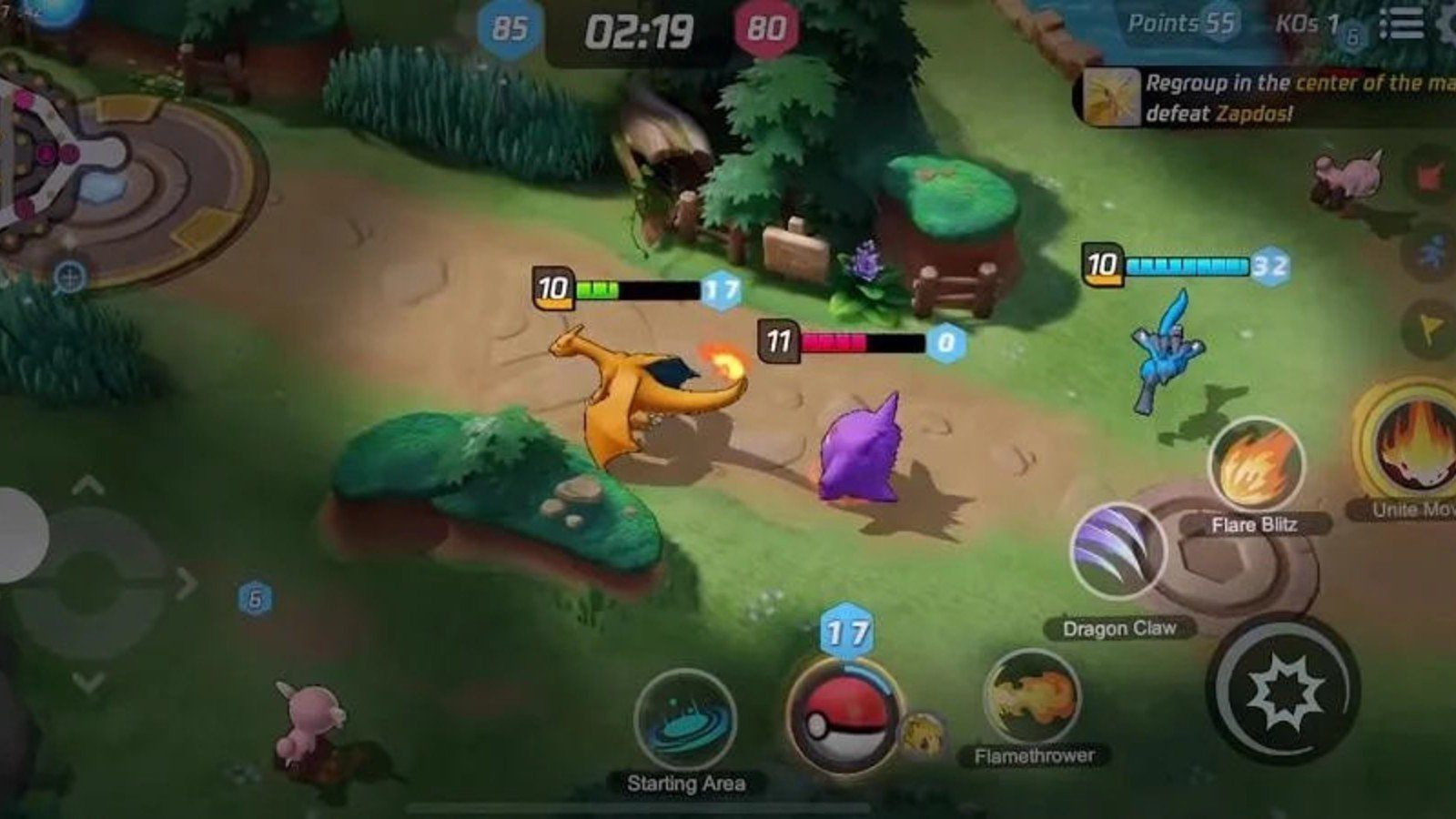 These roles include Attackers, Speedsters, All-Rounders, Defenders, and Supporters. Attackers have high damage, while Speeders are highly mobile Pokémon that can quickly go around the map.
All-Rounder is the jack of all trades. Defenders excel at protecting allies, while Supporters offer buffs and heal while also providing status conditions against enemies.
All five roles ideally must be present in each match as all five are equally important to the team. Each Pokémon has its own set of roles with strengths and weaknesses, and knowing all the roles in the game will help you pick a Pokémon to play.
Pick the Right Pokemon for Your Playstyle
Knowing your role in the game is crucial but picking the Pokémon that suits your playstyle is even more important. With so many Pokémon to choose from, many different playstyles adhere to the role you play within your team.
Supporters and Defenders tend to have a more supportive playstyle, while All-Rounders, Speedsters, and Attackers tend to have a more aggressive playstyle. To know which Pokémon suits your playstyle, test them out in the practice area before playing a real match.
A practice area is a place where you can uncover all the strengths and weaknesses of your chosen Pokémon and then build a strategy behind it. It's a great way to get to know your chosen Pokémon and enhance your role on the team.
Use the Battle Prep Menu Effectively
After you've chosen your Pokémon, the game then does a countdown before you are loaded into the arena. This is the perfect time for you to check all of your settings, including your items, to see if they are appropriate for your chosen Pokemon.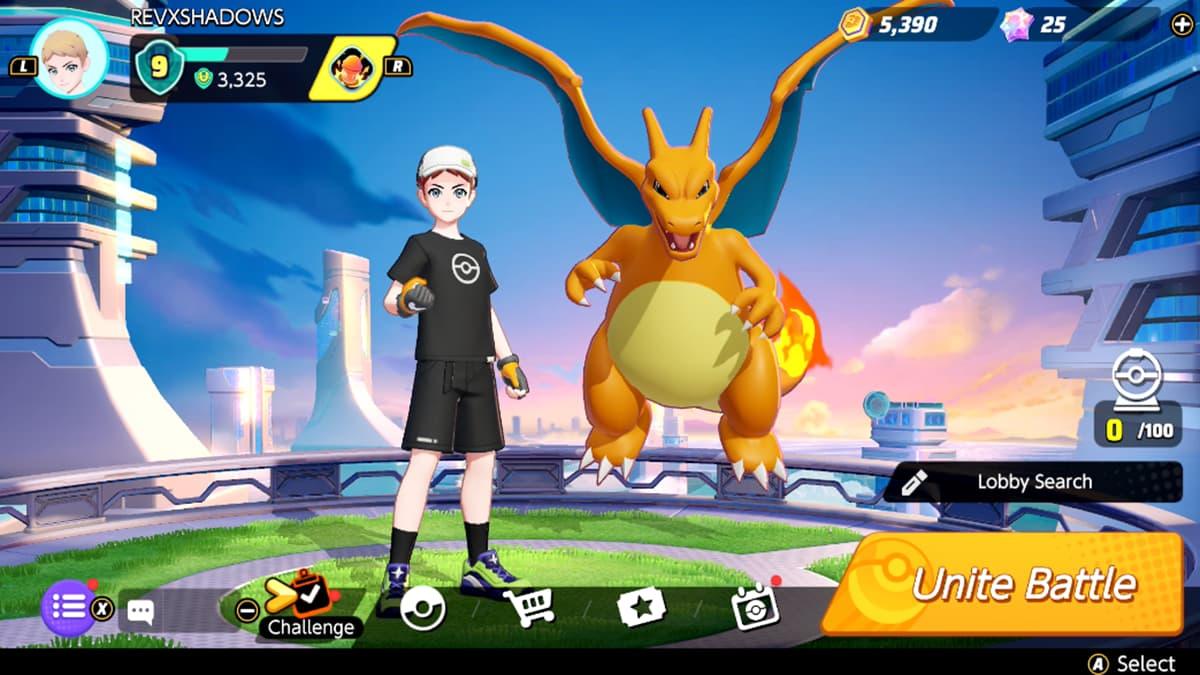 It is important that you try to check your Battle Prep menu before the game starts, or else you'll play the game with the wrong items and map paths.
This can lead to your team getting confused about what you want to do when the game starts, which can cause even more chaos. This is highly detrimental to your game and your team as you are not synced together with your goals.
Remember to use the Battle Prep menu effectively and be sure to have all the appropriate item choices available.
Equipping the Correct Items
There are two types of items that players can use in Pokémon Unite. The Battle items are those that you use in combat, such as health potions to restore your Pokémon's health.
You can also equip your Pokémon with Held items that give a unique buff specific to your Pokemon. You can also upgrade these items as you continue to play the game and even unlock more items slots as you go along.
Having the right Battle and Held items is crucial as it gives you an advantage during battle. This is why choosing and equipping the right items is an important aspect of playing Pokémon Unite.
Look at the Map and Play for Objectives
Apart from the Goal Zones, Remoat Stadium is also filled with other objectives that are equally important to win the game. These objectives provide buffs and other effects that will help your team.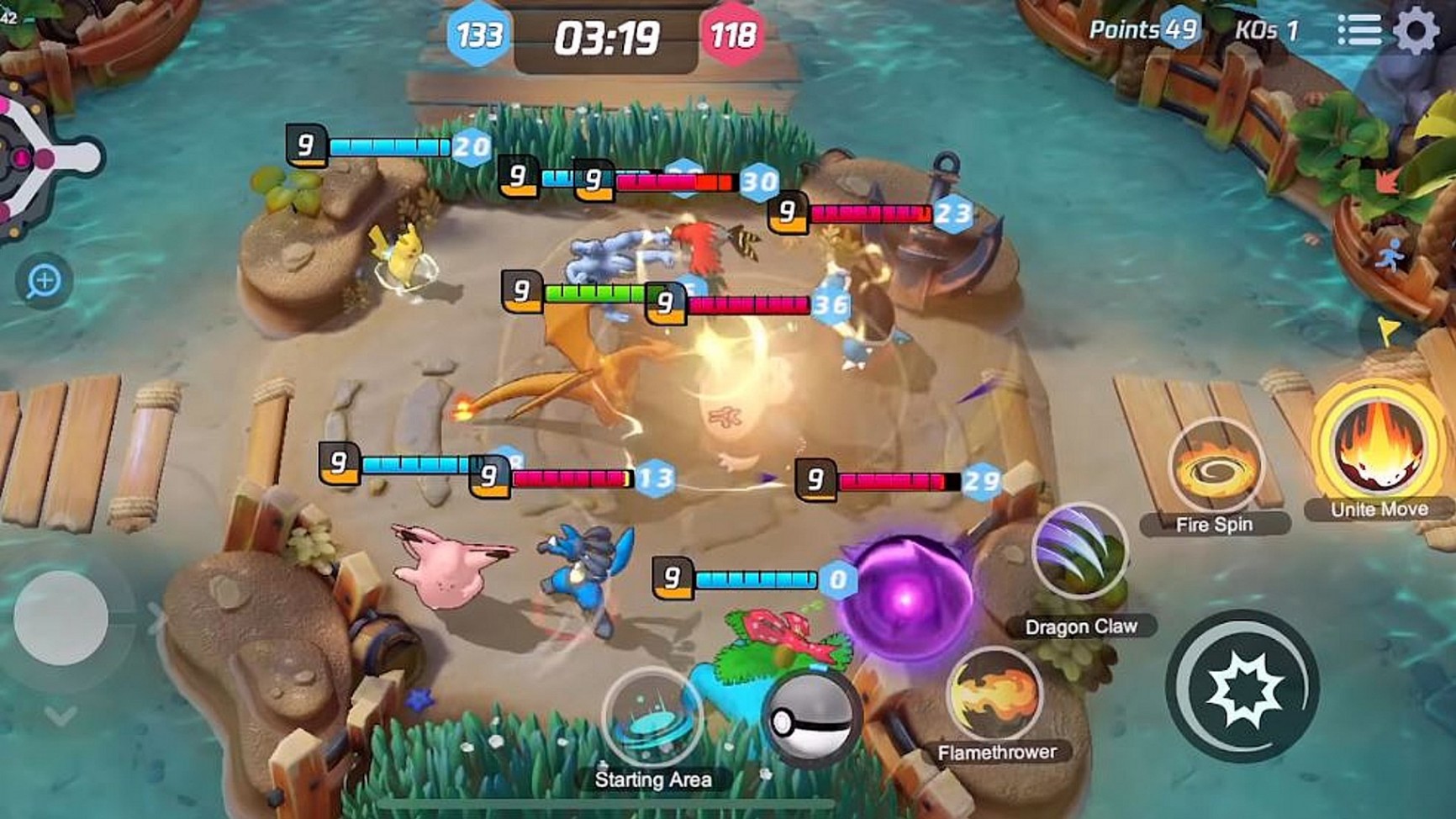 Check out the map and always play for these objectives whenever you have captured a goal zone. Rotom can be found at the top of the map and attack enemy Pokémon.
Capturing Drednaw at the bottom of the map will provide your team with a shield and experience boost. Lastly, defeating Zapdos at the center of the map will give you the ability to give 20 points on any goal.
Zapdos is one of the most critical objectives in the game as it gives the losing team the chance to turn the game around in their favor. While Zapdos will only appear in the last two minutes of the game, it is also important for both teams to capture Zapdos to seal the victory.
Movement Speed Is Everything
When you examine the map, you'll see that some points will help you travel around much faster. The map in Pokémon Unite might be smaller than other mobile MOBA games but roaming around the map is still very difficult to do. This is why movement speed is such an underrated stat within the game.
Getting into position and defending the objectives is crucial to winning the game, so having high movement speed is key to winning the game. Some launchpads will catapult your Pokémon towards a certain direction which can help with mobility.
Speaking of mobility, there are also mobility skills that you can use to extend the gap between yourself and the enemy. You can also try to head back to your base to regenerate your health and get a boost of speed as you go out again.
Upgrading Your Held Items
One of the main reasons why knowing your playstyle is important when playing Pokémon Unite is due to the Held items. Held items provide a good amount of stats and other effects that will help you win more games.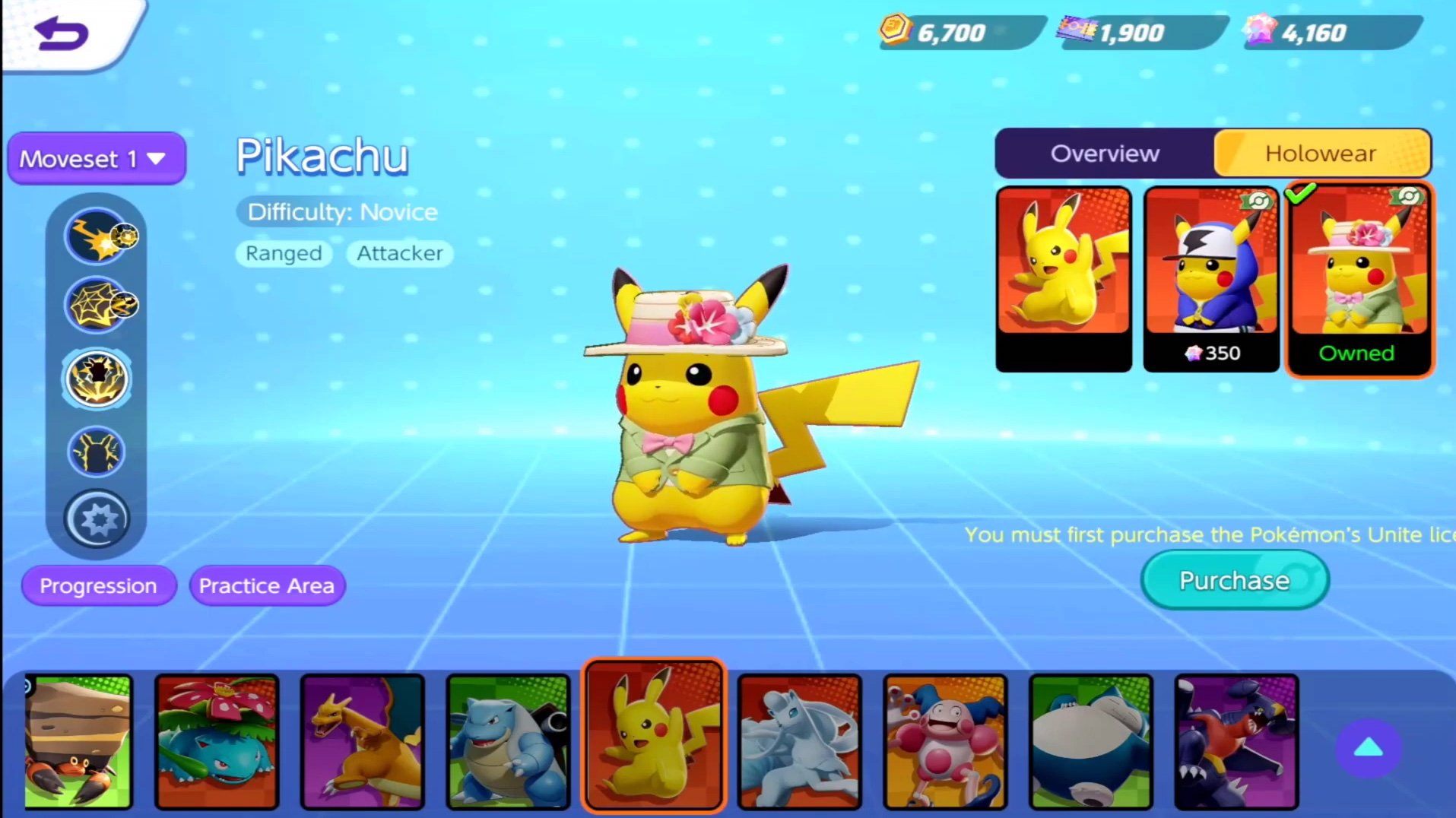 It is one of the fundamentals of the game that requires every player to understand and play around with. Take this as an opportunity to increase your advantage in the game.
After you reach a certain level in the game, you'll be able to upgrade your Held items and open up more possibilities for you and your team to win.
Check out all the possible builds for your Held items and choose those that fit your playstyle.
Unlock New Pokémon for Free
Picking the right Pokémon that fits your playstyle is essential, but you should also know how to unlock new Pokémon for free. For each battle that you win, you'll get a few Aeos coins that will be used to unlock the new Pokémon.
You'll only get about 2,100 Aeos coins every week. With that in mind, there are other ways to unlock the new Pokémon. Logging in every day and playing a few matches will help you unlock a Pokémon.
Try to save those coins as much as possible and avoid spending them on the Pokemon that you can unlock for free. Avoid buying Greninja, Alolan Ninetales, and Cinderace, as well as Venusaur and Slowbro as they are given as rewards for playing the game.
Conclusion
Even for veteran mobile MOBA players, Pokémon Unite has some of the most unique and interesting gameplay, which makes it very different from the rest of the MOBA crowd.
The use of Pokémon and strategy allows for an enjoyable experience for new and old players alike. Check out Pokémon Unite on the Google Play Store or the App Store for mobile devices.